Rice Cooker
Nikujaga – Japanese Beef and Potatoes 肉じゃが
Certain dishes remind us of mom's cooking.
And this simple simmered Japanese beef and potatoes is is definitely one of those recipes. Hearty enough to satisfy when it's the cold winds blow, nikujaga is one of those rare rustic dishes that also happens to be light enough to eat on a spring evening.
In fact, when it comes to nimono – or Japanese stewed dishes – nikujaga is one of the most popular of them all.
Good news, friends: mom doesn't have to be in the kitchen for dinner to taste like she made it!
Servings

3-4

Preparation

15 min

Cooking

80 min
Ingredients
1/2 lbs beef (thinly sliced)
1 onion (cut evenly into eighths)
1/2 carrot (chopped)
2 potatoes (peeled and cut into 4 pieces)
12 snow peas (string removed and cut in bite-sized pieces)
1 tbsp vegetable oil
2 tbsp sugar
3 tbsp soy sauce
1 tbsp cooking sake
2 tbsp mirin
1 3/4 cups dashi (Japanese soup stock)
Directions
Heat vegetable oil in a frying pan and sauté the beef over medium heat.  Add onions, carrots and potatoes.
Mix the ingredients for the sauce well and add to the inner pot of rice cooker. Add the beef, onions, carrots and potatoes to the sauce.
Select the [Slow Cook] menu option, set to 60 minutes, and press the [Start] key.
When cooking is completed, put the snow peas in the cooker, close the lid and leave for 3 minutes.
WHAT IS NIKUJAGA?
So, is nikujaga (肉じゃが) Japanese beef stew? Beef and potatoes? What's the deal?
Well, we'd say that both of those titles pretty accurately sum up this savory and warming Japanese winter recipe. Made of sliced beef simmered with vegetables such as onions, carrots and potatoes, you could almost make the argument that nikujaga is practically a Japanese pot roast – purely from an ingredients standpoint.
However, unlike a pot roast or most beef stew recipes, the beef in nikujaga is sliced super thinly – and the broth also has a thinner consistency.
The rustic flavor is fortified by the savory elements of soy sauce and dashi, the dry bite of sake – and the slight sweetness of mirin.
But don't be intimidated by the ingredients list. This is one of the easiest Japanese recipes you can make!
Fun fact: Meat in Japanese is 肉 (niku). Potato in Japanese is じゃがいも (jagaimo). Therefore, 'meat and potatoes' is a pretty direct translation of nikujaga.
HOW TO MAKE NIKUJAGA IN A RICE COOKER
To make this Japanese meat and potato stew, we're forgoing the traditional soup pot.
That's right! For this hearty nikujaga recipe, you can use the Slow-Cook setting on your rice cooker to simmer your sliced beef and potatoes to perfection.
Think of this easy winter classic as a slow cooker nikujaga.
60 minutes in your Tiger multi-cooker is all it takes to get a savory, warming Japanese beef and potato stew on the table that will have your whole family asking for seconds!
Bon appetit!
Products used in this recipe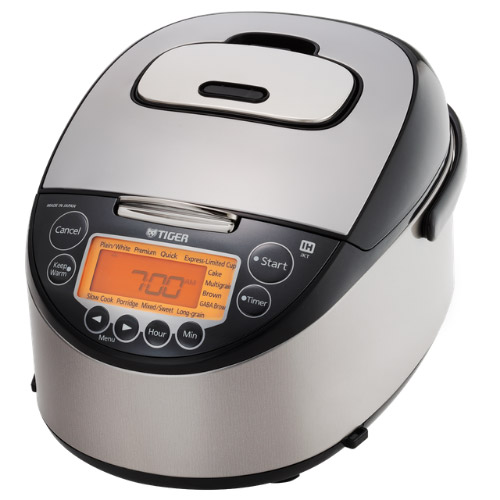 Induction Heating Rice Cooker JKT-D10U/18U
Made in Japan The TIGER JKT-D multi-functional induction heating (IH) electric rice cooker allows yo […]
LEARN MORE