Rice Cooker
Indonesian Style Chicken Soup
Dig into a bowl of this hearty, warming Indonesian style chicken soup. With tender chicken and plenty of aromatics, you'll definitely want seconds! Here's how to make it in your rice cooker.
Servings

3-4

Preparation

20 min

Cooking

70 min
Ingredients
3/5 lbs Chicken wings
1 medium Potato
1 medium Onion
1 medium Tomato
2 Celery stalks
1 2/5 oz Shallots
2 Garlic cloves
1-inch Galangal (Thai ginger)
2/3 tbsp Water
1 tbsp Vegetable oil
4 Cloves
2 ½ Cardamom
1 ½ Star anise
½ Cinnamon
1 4/5 cups Chicken stock
¼ tsp Salt
A pinch Black pepper
Directions
Cut onions and tomatoes into wedges. Cut the potato and celery into bite-sized pieces.
Separate and save the celery leaves for a topping later.
Chop shallots, garlic gloves and galangal and place them into a mixer. Mix with water until the texture becomes pasty.
Crush the cardamom.
Heat the cardamom, paste, cloves, star anise and cinnamon in a frying pan. Sauté until fragrant.
Mix in chicken stock, salt and black pepper.
Insert ingredients other than salt into the inner pot. Set the inner pot in the rice cooker and select the [Slow Cook] menu. Set the heating time to 70 minutes. Press the [Start] key.
When cooking is complete, place the soup in a serving bowl. Garnish and serve with the celery leaves.
A CARDAMOM LOADED INDONESIAN CHICKEN SOUP
There's nothing quite as soul satisfying as a bowlful of Mom's chicken soup recipe. Because whether you're feeling under the weather – or just need the comforting taste of home cooked goodness, chicken soup has the ability to make it all better!
This warming soup recipe is loosely based on an Indonesian preparation that marries the savory, soulful properties of chicken broth with assertive aromatics like garlic, galangal, cinnamon and star anise. Heck, you could almost call this Indonesian recipe a soto ayam, minus the noodles you'd typically find in the original (and with a few more veggies).
But we'd say that the spice that gives this chicken soup it's trademark pop in the flavor department is an unsung hero called cardamom.
WHAT IS CARDAMOM?
Cardamom is a spice made of tiny seed pods that originally hails from both Indonesia and the Indian subcontinent.
With an initial assertive aromatic and smoky flavor profile, you may be surprised to note hints of mint in the spice's aftertaste. So it stands to reason that this multifaceted spice is used in everything from Scandanavian bread to Thai curry to… well, everything in between!
And cardamom imparts a perfect hint of smokiness to this Indonesian style chicken soup. You'll love both eating it – and how easy it is to make from scratch.
HOW TO MAKE CHICKEN SOUP IN A RICE COOKER
Your Tiger rice cooker features a host of onboard cooking presets to help you make anything from a delicious frittata for brunch – to BBQ pulled pork for a tailgating feast on gameday.
For this Indonesian inspired chicken soup recipe, you'll be using the Slow Cook function. This will ensure that the broth is deep and soulful – and that your chicken is fall-off-the-bone tender.
A press of the Start button is all it takes to prepare this homey, soul-warming soup.
Enjoy!
Products used in this recipe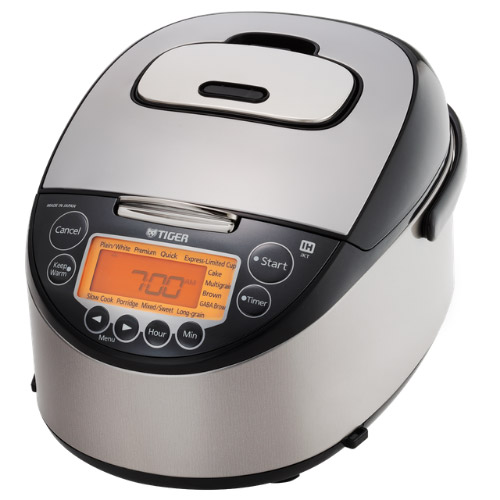 Induction Heating Rice Cooker JKT-D10U/18U
Made in Japan The TIGER JKT-D multi-functional induction heating (IH) electric rice cooker allows yo […]
LEARN MORE