Rice Cooker
Tomato Basil Soup
There's nothing better than making a fresh tomato soup from scratch. It totally embodies the comfort food flavors of mom's home cooking. Well, we've got a homemade tomato basil soup recipe that not only tastes delicious – you can make it super easily in your rice cooker!
Servings

3-4

Preparation

20 min

Cooking

120 min
Ingredients
1 (28-ounce) Can diced tomatoes
1 (14-ounce) Can tomato sauce
1 tbsp tomato paste
1/2 cup Vegetable broth
2 Garlic clove, minced
2 Shallots, diced
½ Small red bell pepper, diced
Salt and pepper for flavor
3 tbsp Heavy cream (optional)
1/4 cup Chopped fresh basil
Directions
Add diced tomatoes to the inner pot along with tomato sauce, tomato paste, vegetable broth, garlic, shallots, and red bell pepper. 
Stir and place inner pot in the rice cooker. Select [Slow Cook] menu and set for 120 minutes. Press [Start] key.
Once complete, transfer the soup to a blender and blend until smooth.
Stir in heavy cream and chopped basil and serve.
A CREAMY TOMATO BASIL SOUP RECIPE
Whether it's the height of summer – or the dead of winter – making tomato basil soup and a grilled cheese sandwich is the high-water mark for lunch as far as we're concerned. Tomato soup is one of those rare things that can seem light enough not to weigh you down, but substantive enough to fill you up (and warm you up when the cold wind blows!).
Well, this particular tomato basil soup recipe has the bright, tangy and sweet flavors of diced tomatoes, accompanied by the savory (almost umami) notes that occur when you cook tomatoes down. Add in a garden fresh pop of flavor from hand-torn basil leaves and red bell pepper… and we're getting there.
A bit of heavy cream really goes a long way towards making this tomato soup recipe shine from both a flavor and texture perspective. However the cream is totally optional. If you're making a vegan tomato basil soup, just leave it out!
Aside from the delicious home-cooked flavors, we think you're going to love how easy it is to make in your own kitchen from scratch!
HOW TO MAKE TOMATO SOUP IN A RICE COOKER
For this creamy tomato soup, simply add all your ingredients (except the cream and fresh basil leaves) into the inner pot of your Tiger rice cooker. When you select the Slow Cook setting and press the Start key, you're almost done. Yay, easy!
Once your soup is cooked, just blend until smooth, stir in your cream – and top with shredded basil. It's more than delicious!
Bon appetit!
Products used in this recipe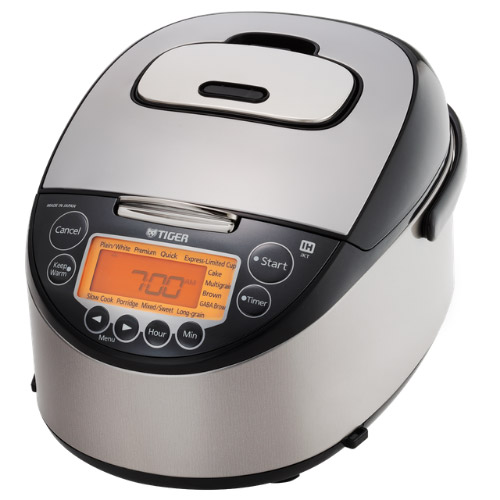 Induction Heating Rice Cooker JKT-D10U/18U
Made in Japan The TIGER JKT-D multi-functional induction heating (IH) electric rice cooker allows yo […]
LEARN MORE