Rice Cooker
Yellow Split Pea Soup
Warm up from the inside out with this savory, nutty and thick vegetarian split pea soup.
Servings

3-4

Preparation
Cooking

90 min
Ingredients
1 small onion, finely chopped
1 garlic clove, minced
1 small carrot, finely chopped
2 celery stalks, finely chopped
4 cups vegetable stock or water
1 1/4 cup yellow split peas
1/2 teaspoon dried thyme
1 teaspoon dried oregano
salt and pepper, to taste
Directions
Put all the ingredients in the inner pot and stir.
Select [Slow Cook] menu and set for 150 minutes. Press [Start] key.
Check the soup after 120 minutes as it may be ready before the full cooking cycle is done. (If so, press the Cancel button). If the split peas are tender, the soup is ready to eat.
A DELICIOUS SPLIT PEA SOUP RECIPE
Sometimes after a long, tough day at work or school, the only thing that will make it all better is a hearty bowl of soup. And that goes double if it happens to be cold outside. Winter demands regular infusions of soup to keep the chill at bay.
Well, friends, we've got a hearty soup recipe with flavors reminiscent of a classic split pea soup with ham to tell you about. However, this soup is 100% vegetarian. Trust us, you won't miss the meat. There's a ton of flavor going on here!
Aside from the iconic bouquet of onions, garlic, carrots and celery used as aromatics, there's the nutty thickness that split peas bring to the table.
WHAT ARE SPLIT PEAS?
Pretty much just as it sounds, split peas are peas that are harvested as spheres – and then dried and split in half. There are green and yellow split peas – and no matter which you choose to cook with, they are low in fat, high in protein and extremely high in fiber.
We like!
HOW TO MAKE SPLIT PEA SOUP IN A RICE COOKER
Soups are a breeze to make in your Tiger rice cooker.
And we can't get enough. Whether it's the herbaceous kick in this coriander fish soup, the sour zing in this Filipino sinigang or the homey comfort-food pop of this lemon chicken orzo soup, we're all in!
And there's nothing better than loading everything into the inner pot and simply hitting the Start key. It frees you up to work on other elements of your meal – or to just kick your feet up with a good book. When you use your Tiger multicooker, you really are cooking with the press of a button!
Anyway, for this thick and savory yellow split pea soup, just load everything into the inner pot and cook using the Slow Cook preset. See the cooking times in the directions tab in the margins of this page.
This hearty soup will warm you from the inside out!
Bon appétit😋
Products used in this recipe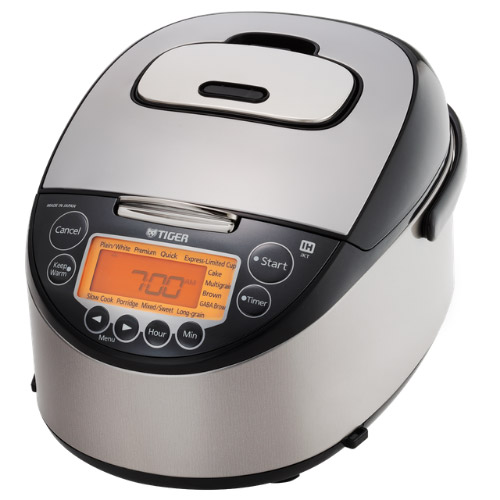 Induction Heating Rice Cooker JKT-D10U/18U
Made in Japan The TIGER JKT-D multi-functional induction heating (IH) electric rice cooker allows yo […]
LEARN MORE