Rice Cooker
Rice Cooker Sinigang (Filipino Sour Soup)
Sinigang is a popular Filipino sour and savory soup made with tamarind, seafood, and vegetables. The sour, vinegary notes make it a cleansing dish to enjoy with a side of rice (as it is often eaten as a main). It's also very easy to make!
Servings

3-4

Preparation

20 min

Cooking

60 min
Ingredients
8-9 medium sized Shrimp
4 oz Taro
4 oz Japanese radish
1/2 Tomato
¼ Eggplant
½ Onion
1 oz Chinese water spinach
3 Okra
3 Green beans
7 oz Lump tamarind
¾ cup Water (for tamarind)
2 tbsp Fish sauce
2/3 tbsp Lemon juice
Salt / White pepper for flavor
1 1/3 cup Chicken stock
Directions
Peel and devein the shrimp.
Cut the tomato and onion into wedges. Cut other vegetables into bite-sized pieces.
Dissolve the tamarind in water and strain. Remove the seeds.
Place the shrimp, vegetables and tamarind into the inner pot with the condiments.
Select the [Slow Cook] menu and set the heating time to 60 minutes. Press the [Start] key.
When cooking is complete, place the dish on a serving plate.
What is Sinigang
The word sinigang means stewed dish in Tagalog but is often referred to as a soup due to its high liquid content. The common ingredients found in sinigang are tamarind, fish sauce, tomatoes, garlic, onion, vegetables, and a mix of seafood and meat. Hot long green peppers are also often included to add heat to the dish.
Healthy Comfort Food
Filipino sinigang is a hearty dish that's perfect for the winter season. The fact that it's both low in fat and calories makes it a healthy comfort food we can enjoy guilt-free. It's also surprisingly filling!
How to Make Sinigang
For this easy rice cooker sinigang recipe, there are only four steps to follow.
Peel and devein the shrimp. If you are using frozen shrimp, make sure they are fully thawed.
Slice the vegetables.
Dissolve the tamarind paste in water and dispose of the seeds.
Put all the ingredients in the rice cooker and press start.
Now comes the fun part – seasoning your stew the way you like it!
We recommend the usual suspects that come with a sinigang – fish sauce, lemon juice, salt and pepper. If the soup is too strong, add a little chicken to it, this will tone down the taste of tamarind and balance out the flavors.
How Long Does Sinigang Keep?
For leftovers, keep the sinigang stored in the fridge in an airtight container. Because it contains shrimp, this Filipino sinigang recipe should be eaten within 2 days. Reheat it in a pot on a stove over low heat – this will prevent the shrimp from overcooking.
Products used in this recipe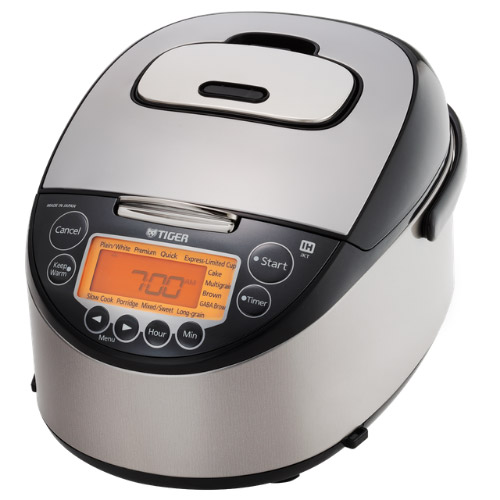 Induction Heating Rice Cooker JKT-D10U/18U
Made in Japan The TIGER JKT-D multi-functional induction heating (IH) electric rice cooker allows yo […]
LEARN MORE