Rice Cooker
Lemon Chicken Orzo Soup
What's for dinner tonight?
If you said this lemon chicken orzo soup recipe, we'd probably say, "um… can we come over?"
This soup is hearty, bright – and super easy to make in your rice cooker!
Servings

3-4

Preparation

20 min

Cooking

70 min
Ingredients
4 oz Chicken breast
3 oz Onion
2 1/2 Celery
2 1/8 oz Carrot
1/6 oz Garlic
1 tbsp Extra virgin olive oil
1 bay leaf
1/2 Thyme (dried)
3 cup Chicken stock
1 3/z oz Orzo pasta (dried)
1 tbsp Lemon juice
1 tbsp Dill (chopped)
Salt and black pepper for flavor
Directions
Cut the chicken breast into bite-sized pieces. Cut the onions, celery and carrot into cubes and mince the garlic. Place in the inner pot.
Add extra virgin olive oil, bay leaves, thyme and chicken stock and mix well.
Select the [Slow Cook] menu and set for 40 minutes. Press the [Start] key.
When cooking is complete, add the orzo pasta. Press the [Hour] key to set additional heating time to 30 minutes. and press the [Start] key.
When cooking is complete, add lemon juice and dill and mix well.
Add salt and black pepper for flavor and pout the soup into a serving bowl.
A HEALTHY SLOW COOKER SOUP
Let's hear it for chicken soup!
Because no matter what's going on in our hectic lives, there's just nothing like a soulful, warming bowl of goodness to put things right.
And whether it's chicken noodle soup or a chicken and vegetable soup, one can never have too many soup recipes in their cooking arsenal!
This healthy and light lemon chicken orzo soup is both savory and bright. Slow cooked chicken brings a hearty base for the lighter elements like lemon juice and dill.
With plenty of veggies and a good amount of orzo, this soup is one of those one pot meals that comprises a well rounded dinner in a single bowl.
Let's cook!
HOW TO MAKE CHICKEN SOUP IN A RICE COOKER
Your Tiger rice cooker is no stranger to whipping up slow cooker recipes. You see, with settings for all kinds of meals, your multi-cooker is ready to tackle everything from making these cajun turkey meatballs to this cheesy bacon and potato frittata with ease.
Oh – and, sure, your rice cooker makes perfect rice too😉
In short, you can totally rely on your multi-functional rice cooker when it comes to making dinner at your place!
So it stands to reason that when you use the Slow Cook setting to make this savory and bright chicken soup, you literally press the Start key and get to walk away.
The chicken will be tender, the orzo will be perfectly cooked – and the flavors in this chicken soup will be deep and soulful, without you having to stand watch over the pot!
Bonus: if you're cooking this soup in the warm weather months, your kitchen will stay cool because you get to keep the stove burners OFF.
We'd say that there's nothing quite as easy as cooking with the press of a button.
Bon appétit!
Products used in this recipe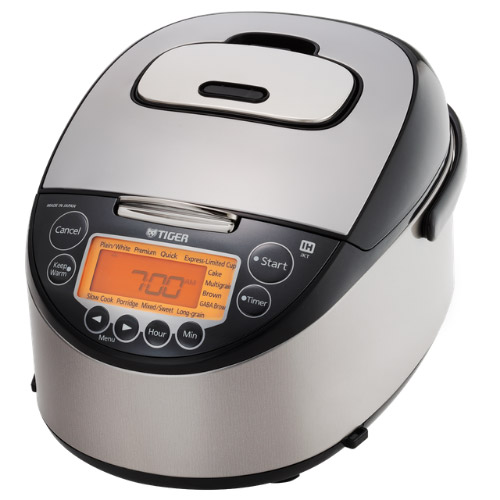 Induction Heating Rice Cooker JKT-D10U/18U
Made in Japan The TIGER JKT-D multi-functional induction heating (IH) electric rice cooker allows yo […]
LEARN MORE