Rice Cooker
Onion and Tofu Miso Soup
Let's make miso soup! This onion and tofu miso soup is a breeze to whip up in your rice cooker – and is one of our favorite variations of this iconic Japanese soup.
Servings

3-4

Preparation

10 min

Cooking

35 min
Ingredients
4 cups Water
1 Large yellow onion, thinly sliced into half moons
10 oz Silken tofu, drained and sliced into cubes
3-4 tbsp White or awase miso paste. 
Chopped scallions for garnish (optional)
Directions
Pour water into the rice cooker's inner pot and stir in sliced onions.
Choose the [Slow Cook] function and set the timer for 30 minutes. Press start. 
Once cooking is complete, add tofu cubes, stir and close the lid. Leave for 5 minutes. 
Stir in miso paste until it dissolves and ladle soup into small bowls. Top with scallions and serve.
WHAT IS MISO SOUP?
Miso soup is a Japanese soup that typically consists of a savory base of dashi and miso paste. This soup is ubiquitously served anywhere from Japanese sushi restaurants to izakayas – to sitting around the dinner table at home.
Most versions will have cubed bean curd (tofu) served inside, along with scallions and seaweed.
And many different variations exist. Mushrooms are commonly used to introduce even more umami. And one of our all time favorites is asari misoshiru (miso soup with clams).
Well, this recipe is a variation as well. To make it easy, we've nixed the dashi – and have instead opted to make a slow cooked onion broth. The fragrant combination of sliced onions and miso paste produces a soup we're sure you're going to love!
HOW TO MAKE MISO SOUP IN A RICE COOKER
Making this iconic Japanese soup recipe in your rice cooker is as simple as using the Slow Cook setting to cook the sliced onions for 30 minutes. After that, add your tofu cubes and let them warm up in the hot broth. The final step is stirring in your miso paste (to taste) and serving.
Now, we'd say the slow cook setting on your Tiger multi-functional rice cooker sure comes in handy. It transforms a kitchen appliance that formerly had a single use into a powerhouse of a cooking tool that can handle most aspects of a delicious and well rounded dinner.
We'll be honest… when it comes to this rice cooker miso soup recipe, we think your taste buds are going to fall in love at first bite😋
Itadakimasu!
Products used in this recipe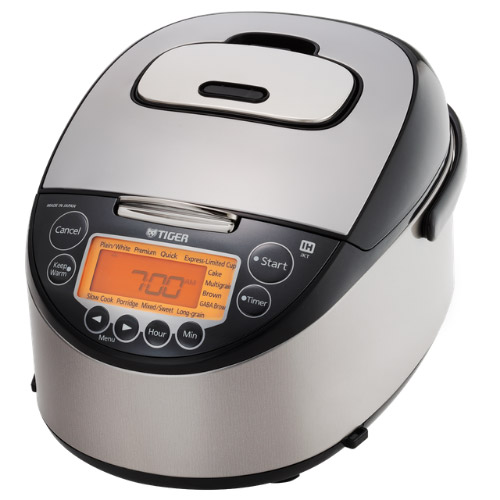 Induction Heating Rice Cooker JKT-D10U/18U
Made in Japan The TIGER JKT-D multi-functional induction heating (IH) electric rice cooker allows yo […]
LEARN MORE