Rice Cooker
Braised Pork Belly
If you're thinking that this savory, melt-in-your-mouth braised pork belly recipe seems too difficult to whip up for dinner, think again.
Savory, sweet and full of lip smacking goodness, this rice cooker recipe is as easy as it gets!
Servings

3-4

Preparation

20 min

Cooking

70 min
Ingredients
4/5 lbs Pork belly
½ tbsp Vegetable oil
2 tsp Ginger
2 tsp Garlic
1 Green onion
2 Chinese Star anise
2 Bay leaf
2 tbsp Black soy sauce
2 tbsp Sugar
2/3 tbsp Sweet soy sauce
A pinch Salt and black pepper
1 cup Water
Directions
Slice the pork into 2-inch cubes. Boil until cooked and drain the water.
Heat the vegetable oil in a frying pan and lightly fry the pork. Let the pork cool after frying.
Thinly slice the ginger. Cut the green onions into 1 to 1.5-inch pieces.
Place the pork, ginger and green onions in the inner pot. Place the other ingredients and mix.
Select the [Slow Cook] menu, set the heating time to 70 minutes. Press the [Start] key.
When cooking is complete, place the dish on a serving plate.
A DELICIOUS BRAISED PORK BELLY RECIPE
This melt in your mouth pork belly recipe is loosely based on a Chinese braised pork dish called hong shao rou – 红烧肉.
In that delicious recipe, pork belly is cooked in a mixture ginger, garlic, sugar, star anise, chili peppers and wine until the meat is fall-apart-soft. It's delicious!
And while that dish also runs some pretty significant parallels to a Taiwanese lu rou fan, we've simplified this rice cooker braised pork belly recipe a bit to keep the ingredients list on the manageable side of things.
But don't worry! We didn't sacrifice any of the deep and soulful flavor when it comes to this easy pork belly recipe. On the contrary – it's absolute dynamite in the seasoning department.
And it's so easy to make, you'll be shocked that this hearty bit of meat perfection came from your humble rice cooker!
HOW TO COOK PORK BELLY IN A RICE COOKER
Now, we probably don't need to tell you that your Tiger rice cooker is capable of doing way more in the kitchen that simply making perfect rice.
And whether it's a hearty vegetarian Mexican chili or these impossibly savory BBQ pulled pork sliders, the Slow Cook function on your Tiger multicooker can turn out absolute deliciousness with the simple press of a button.
Hey, we love keeping it easy at dinnertime – while still eating as well as someone who literally spent hours working away in the kitchen.
So it stands to reason that – for this braised pork belly recipe – you simply need to load your ginger, garlic, seared pork belly and spices into the inner pot of your rice cooker.
Slow cook for 70 minutes while you work on other elements of your dinner. Or, heck, kick your feet up with a glass of wine and a good book. You deserve it!
Bon appetit 🍲😋
Products used in this recipe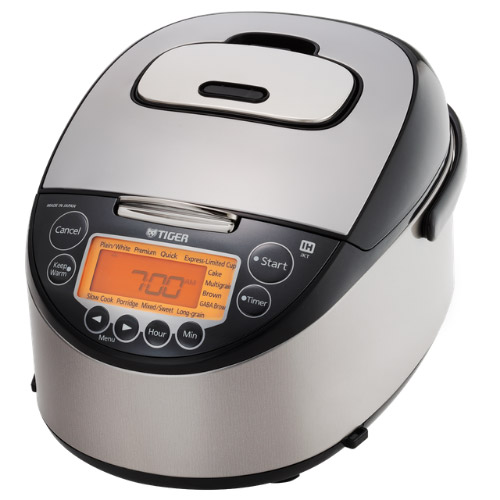 Induction Heating Rice Cooker JKT-D10U/18U
Made in Japan The TIGER JKT-D multi-functional induction heating (IH) electric rice cooker allows yo […]
LEARN MORE