Rice Cooker
Rice Cooker Vegan Chana Masala
Gluten Free
Slow Cook
Vegan
Loaded with spice, and a deep savory smokiness, you can make this easy vegan chana masala recipe with the press of a button!
Servings

3-4

Preparation

20 min

Cooking

90 min
Ingredients
1 tbsp Garam masala
1 Large onion, diced
1 tsp Ground ginger
1 tsp Ground cumin
½ tsp Ground coriander
2 tbsp Tomato paste
14-oz can Diced tomatoes
1 1/2 cups Water or vegetable broth
2 15-oz cans Garbanzo beans, rinsed and drained
Salt and pepper for flavor
Lemon wedges, to serve with
Yogurt, for topping
Directions
Put all the ingredients except for lemon wedges and yogurt in the inner pot of the rice cooker.
Place inner pot in the rice cooker. Select [Slow Cook] menu and set for 120 minutes. Press [Start] key.
Once complete, serve with lemon zest and yogurt.
WHAT IS CHANA MASALA?
Chana masala is a vegetarian Indian recipe made of chickpeas (garbanzo beans), onion, tomato, chili and a variety of spices. On the dry side of most stewed dishes, chana masala has a flavor one might describe as both spicy and sour.
Fun fact: Chana Masala roughly translates to spiced chickpeas.
Now, while you will definitely find a variety of spices used from recipe to recipe, most chana masala recipes rely on an iconic Indian spice blend called garam masala.
WHAT IS GARAM MASALA?
Garam masala is a mixture of ground spices that features the warming elements of things like curry leaf, black peppercorns, cinnamon, cumin, coriander, cloves and cardamom pods.
This spice mixture melds perfectly with onion, ginger and tomatoes to create a wonderful bouquet. Yep – this Indian recipe has all the flavors!
And not only is this chickpea stew fiery and delicious, this vegan chana masala is also a super easy Indian recipe to whip up at home when you need a bit of spicy home cooked deliciousness in your life.
HOW TO MAKE CHANA MASALA IN A RICE COOKER
Here comes the easy bit!
As you may have guessed, you can use your Tiger rice cooker to make tons of things aside from perfect rice. With a variety of onboard cooking presets, you can whip up anything from carrot cake to Swedish meatballs (and pretty much everything in between).
Therefore, for this rice cooker chana masala, simply load all your ingredients (EXCEPT your lemon wedges and yogurt) into the inner pot of your multi-functional rice cooker. When you select the Slow Cook setting and press the Start button, your responsibility ends there! Your rice cooker will take care of the heavy lifting.
The only thing you and your family have to do is to enjoy your dinner! 🌶🍲😋
Products used in this recipe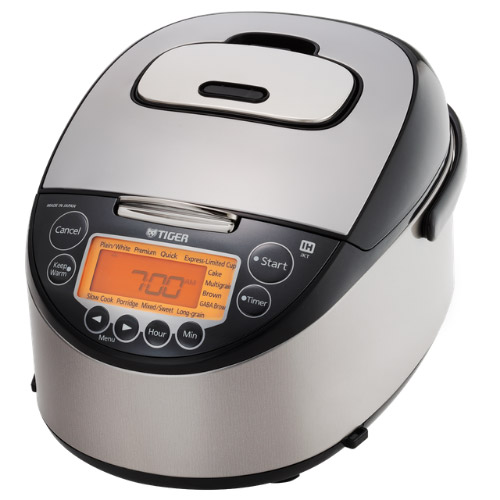 Induction Heating Rice Cooker JKT-D10U/18U
Made in Japan The TIGER JKT-D multi-functional induction heating (IH) electric rice cooker allows yo […]
LEARN MORE