Rice Cooker
Swedish Meatballs
There's nothing better in the kitchen than something that starts out as a fun, hands-on food project – and results in a delicious dinner at the end of it all.
So, let's hear it for Swedish meatballs!
These savory meatballs tick both boxes… They're fun to make (kids love to get involved) – AND they're a huge hit when you put this easy-to-make meatball recipe on your dinner table.
Whether you call them Swedish meatballs, Svenska köttbullar – or even Ikea meatballs – let's roll up our sleeves and get cooking!
Servings

3

Preparation
Cooking
Ingredients
2 cups (supplied measuring cup) of white rice
1/2 lbs ground beef and pork
1/4 onions
2 tbsp bread crumbs
2 tbsp milk
3 tbsp flour
1/2 cup heavy cream
1 soup stock cube
dash of salt and pepper
Parsley (finely chopped) for garnish
Paprika for garnish
Apple jam and berry jam for flavor
Directions
Chop onions finely and soak bread crumbs in milk.
Mix ground pork and beef in a bowl with the onions and bread crumbs. Season with salt and pepper.
Shape the meat mixture in to balls about 1 1/4 inches in diameter. Dredge the meatballs with flour and place in tacook cooking plate.
Mix the heavy cream with the crushed soup cube stock and salt and pepper. Pour over the meatballs.
Put the washed rice and water in the inner pan, and set in the rice cooker.
Set the tacook cooking plate in the inner pan. Select the [Plain/Synchro-Cooking] menu and press the [Start] key.
When cooking is complete, serve the rice in a serving bowl. Serve the meatballs with paprika, finely chopped parsley and jam.
HOW TO MAKE SWEDISH MEATBALLS IN A RICE COOKER
Now, the process of assembling the meatballs before cooking is the fun part. If you've ever wondered how to make meatballs, have a look at the instructions in the margin.
Ground pork, ground beef, chopped onions and milk soaked bread crumbs are all mixed together in a large bowl and formed into smallish orbs.
Pro tip: we've found about an inch-and-a-quarter to be the sweet spot in the meatball diameter / size department.
For this Swedish meatball recipe, we're using a Tiger rice cooker to cook both the rice and our meatballs at the same time!
Just load your Tacook cooking plate with your meatballs and the elements for your sauce – and place your rinsed rice and water in the inner pot below.
Then you get to relax… Your multicooker will take it from there!
SWEDISH MEATBALLS OVER RICE
It's no secret… We LOVE rice!
And while these savory Swedish meatballs would taste delicious served over creamy mashed potatoes or even pasta – we absolutely love how the grains of rice soak up the creamy and savory Swedish meatball sauce.
If you're a fan of playing both the sweet and savory sides of the aisle, topping your meatballs with a bit of berry jam brings the deliciousness to the next level!
But, no matter how you and your family enjoy this Scandinavian dish, you might just be tempted to lick the plate clean!
Products used in this recipe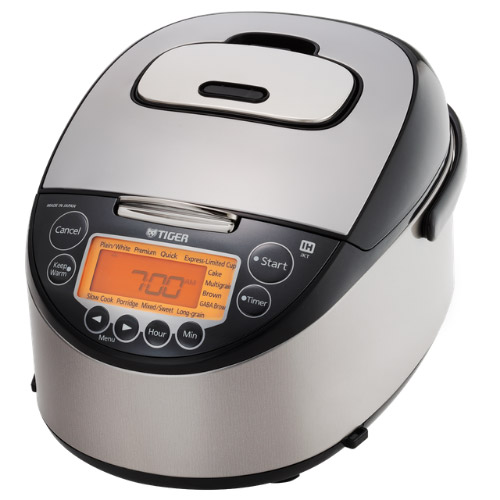 Induction Heating Rice Cooker JKT-D10U/18U
Made in Japan The TIGER JKT-D multi-functional induction heating (IH) electric rice cooker allows yo […]
LEARN MORE