Rice Cooker
Fat Burning Cabbage Soup
If you're looking to cut calories but still eat like a champ, we've got a soup for you! This fat burning cabbage soup is light in all the ways that matter, but is flavor packed and SO delicious.
Servings

3-4

Preparation

15 min

Cooking

90 min
Ingredients
½ Small cabbage
1 Green bell pepper, seeded and finely chopped
1 Medium onion, peeled and finely chopped
2 tbsp Freshly grated ginger
1 tsp Cayenne pepper
4 cups Chicken broth
Directions
Put all the ingredients in the rice cooker's inner pot and choose the [Slow Cook] setting.
Set the timer to 90 minutes and press start.
Once complete, serve in a bowl.
A HEALTHY VEGGIE SOUP THAT SATISFIES
Have you ever looked inside the vegetable crisper in your fridge and wondered, what the heck can I make with a head of cabbage?
Hey – it's a common problem. We head to the grocery store with the best of intentions. The plan is to eat better, and to cook more often than ordering out. But then reality sets in, and you've gotta figure out what to make with a handful of veggies after a long day at work.
Well, not to worry friends! We've got a cabbage soup recipe that is loaded with satisfying savory depth – and won't expand your waistline.
Whether you're on the cabbage soup diet or just need a dose of comfort food, this is one of our favorite recipes with cabbage!
You see, onion and ginger lay down a base of sharp heat that is tempered by the chicken broth (you can also use veggie broth if you're following a vegan diet). Cabbage and green pepper provide substance – while still keeping it lean. And our favorite addition is a pinch of cayenne pepper powder for a tiny bit of fire.
Aside from the flavor though, you're going to love how easy it is to make from scratch!
HOW TO MAKE CABBAGE SOUP IN A RICE COOKER
Simply toss all your cabbage soup ingredients into the inner pot of your Tiger multi-functional rice cooker. When you select the Slow Cook function and press the Start key, you're free to kick your feet up and decompress until dinner's ready.
It's so yummy!
Products used in this recipe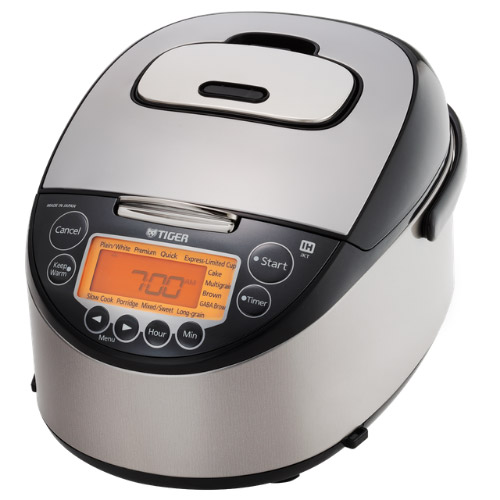 Induction Heating Rice Cooker JKT-D10U/18U
Made in Japan The TIGER JKT-D multi-functional induction heating (IH) electric rice cooker allows yo […]
LEARN MORE