Rice Cooker
Slow Cooker Cream of Mushroom Soup
This ginger chicken congee is basically a thick and hearty chicken rice soup. It's so easy to make – and is the perfect meal when you need a comforting dose of mom's home cooking.
Servings

3-4

Preparation

20 min

Cooking

90 min
Ingredients
3 tablespoon Butter
1 Small onion, finely chopped
2 Garlic cloves, minced
3 ½ cups Sliced button mushrooms
1 tablespoon Dry sherry
2 cups Low sodium vegetable broth
½ cup Water
1 teaspoon Salt
⅛ teaspoon Ground black pepper
½ cup Heavy cream
Directions
In a skillet over medium high heat, add butter, onion slices, and garlic, and cook for 3-4 minutes, until onions are translucent.
Add mushrooms and cook for 5-7 minutes, or until tender.
Turn the heat off and transfer the vegetables to the rice cooker inner pot. 
Add the sherry, vegetable broth, water, salt, and pepper and stir. 
Close the lid and choose the [Slow Cook] function. Set the timer to 90 minutes and press start. 
When there's about 20 minutes left to the cooking process, stir in the cream. 
Transfer the soup to a blender and blend until smooth. Serve.
HOMEMADE CREAM OF MUSHROOM SOUP – NO POT-WATCHING REQUIRED
Cream of mushroom soup is a pretty versatile thing. You can serve it as it is and wow your dinner guests with a blast of savory, umami perfection.
Or you can cook with it, elevating home cooked comfort food to another level. From pot-roast to green bean casserole, this creamy mushroom soup can be your go-to ingredient to impart deep levels of flavor to another dish altogether.
Well, we've got a slow cooker soup recipe that is loaded with flavor – and beats the heck out of the canned stuff, hands down. And it's so easy to make at home!
HOW TO MAKE CREAM OF MUSHROOM SOUP IN A RICE COOKER
To start, get your onions and garlic going in a skillet with some butter. You'll want to cook them until the onions are translucent (but not browned). Next add your sliced mushrooms to the pan and cook until they are tender.
This first step in the skillet releases the umami essence of the mushrooms… and let's be honest, nothing smells better than the aromatic scent of cooking onions and garlic. It's the precursor fragrance of some of our favorite meals!
Then simply add everything (EXCEPT the cream) to the inner pot of your Tiger multifunctional rice cooker. Select the Slow Cook setting for 90 minutes – and you're off to the races.
Now, you'll want to stir in the cream when there's about 20 minutes left in the cooking cycle.
The final step is to pulse the cooked soup in a blender or food processor until the mushroom soup arrives at your desired consistency.
We've tried it with a full-on blend and the creaminess was heavenly. However, you can also pulse the cream of mushroom soup until it is mostly blended, yet retains a few chunks of mushrooms. The great part about cooking at home is there are no hard-and-fast rules. Make your soup the consistency you and your family prefer.
Either way, dinner is going to be delicious!
Products used in this recipe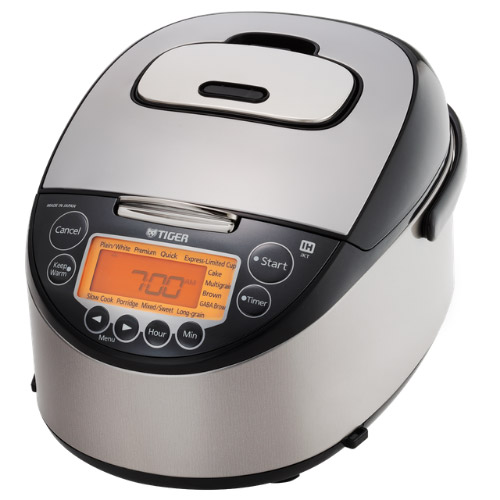 Induction Heating Rice Cooker JKT-D10U/18U
Made in Japan The TIGER JKT-D multi-functional induction heating (IH) electric rice cooker allows yo […]
LEARN MORE