Rice Cooker
Broccoli Soup
This warming velvety broccoli soup is the ultimate autumn and winter comfort food! Make it with the press of a button in your rice cooker.
Servings

3-4

Preparation

10 min

Cooking

60 min
Ingredients
4-5 cups Broccoli florets
1 Medium onion
2 Celery stalks
2 Garlic cloves
4 cups Water, vegetable or chicken stock
2 tbsp Olive oil
Salt and pepper, to taste
Directions
Put all the ingredients in the rice cooker inner pot and select the [Slow Cook] setting. Set the timer for 60 minutes and press start.
Transfer the soup to a blender and blend until smooth. Serve.
A SIMPLE BROCCOLI SOUP RECIPE WITH TONS OF FLAVOR
There's nothing better than soup to warm you up from the inside out when the cold winter winds are howling. And whether you're craving a basil loaded tomato soup – or a comforting homemade chicken noodle soup – these magical elixirs tend to be evocative of Mom's home cooking.
Now, this broccoli soup recipe is loaded with ingredients that happen to be good for you, yet still manage to taste indulgent. Not to mention that the finished soup has a smooth, velvety texture.
A trinity of onions, garlic and celery provide an aromatic base for this soup, while still allowing the verdant flavors of the broccoli to really shine.
You can use savory chicken stock to fortify this soup. Or if you'd like to make a vegan broccoli soup, simply use vegetable stock or water.
So let's get cooking!
HOW TO MAKE BROCCOLI SOUP IN A RICE COOKER
Simply load all of your soup ingredients into the inner pot of your Tiger multifunctional rice cooker. You'll just need 60 minutes on the Slow Cook setting for soup broth to be infused with the essence of the tender broccoli and fragrant aromatics.
When you use your rice cooker there's no need to stand at the stovetop, playing a game of watch-the-pot. Once the timer sounds off, you're good to go!
Just pop your cooked soup into a blender or food processor and blend until smooth.
One bite, and we think you'll add this simple soup recipe to your steady dinner rotation!
Products used in this recipe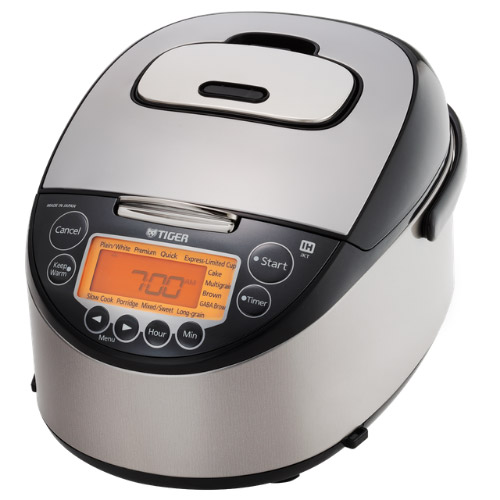 Induction Heating Rice Cooker JKT-D10U/18U
Made in Japan The TIGER JKT-D multi-functional induction heating (IH) electric rice cooker allows yo […]
LEARN MORE