Rice Cooker
Chicken Noodle Soup
This warming and hearty chicken noodle soup is just what the doctor ordered. Make it easily in your rice cooker!
Servings

3-4

Preparation

20 min

Cooking

70 min
Ingredients
4 oz Chicken breast
3 oz Onion
2 1/2 Celery
2 1/8 oz Carrot
1 tbsp Extra virgin olive oil
3 cup Chicken stock
1/2 cup Rotini pasta or other pasta of your choice
Salt and black pepper for flavor
Directions
Cut the chicken breast into bite-sized pieces. Cut the onions, celery and carrot into cubes. Place in the inner pot.
Add extra virgin olive oil and mix well.
Select the [Slow Cook] menu and set for 40 minutes. Press the [Start] key.
When cooking is complete, add the pasta. Press the [Hour] key to set additional heating time to 30 minutes. and press the [Start] key.
Season with salt and pepper and serve.
HOMEMADE CHICKEN NOODLE SOUP: THE ORIGINAL COMFORT FOOD
Whether you're feeling a little under the weather – or just want a delicious, comforting reminder of Mom's home cooking – there's nothing quite like a simple chicken soup recipe to put things right in the world.
It's the warm blanket of food!
And soup is one of those magical things that busts genres and can make a superb lunch, dinner or snack.
For this easy soup recipe, we're not messing with the classic combination of chicken, onion, celery, carrots, stock and pasta. Hey – it's the archetypal mixture for a reason. It tastes great!
Now you might think that a rice cooker soup might not have all of the developed flavors of soup made in a more traditional style on the stovetop. But luckily that isn't the case!
Using your rice cooker will allow those home cooked flavors to develop in a comparatively short amount of time!
HOW TO MAKE CHICKEN NOODLE SOUP IN A RICE COOKER
With a ton of cooking presets, your Tiger multi-functional rice cooker is definitely up to the task when it comes time to whip up delicious dinners with the press of a button.
And we are absolutely nuts when it comes to making soup in a rice cooker. Seriously – from this pureed carrot ginger soup to this exotic and fragrant coriander fish soup to this hearty yellow split pea soup – your multicooker has got you covered! And those are just a few examples of rice cooker recipes that aren't rice based at all!
Anyway, to make this homemade chicken noodle soup, simply place all your ingredients and chicken broth (EXCEPT your pasta) into the inner pot and select the Slow Cook setting for 40 minutes. Once the timer sounds off, add your dried pasta and cook for another 30 minutes.
And that's it. We told you it was easy!
Sprinkle a little salt and pepper to taste – and serve it up!
Products used in this recipe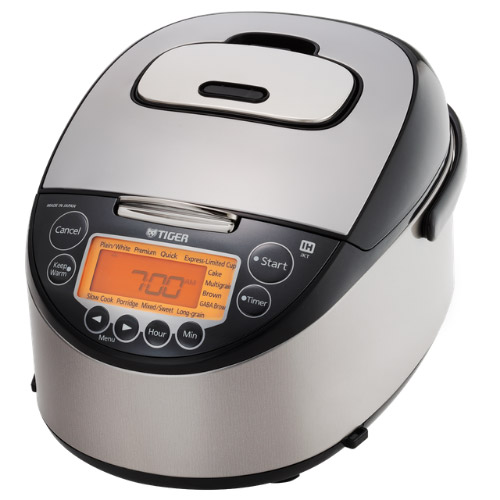 Induction Heating Rice Cooker JKT-D10U/18U
Made in Japan The TIGER JKT-D multi-functional induction heating (IH) electric rice cooker allows yo […]
LEARN MORE