Rice Cooker
Kabocha Squash Soup
Once you try a spoonful of this creamy, velvety kabocha squash soup, you'll be hooked! Savory with a hint of sweetness, this lovely soup is super easy to make in your rice cooker.
Servings

3-4

Preparation

10 min

Cooking

45 min
Ingredients
1 pound Kabocha squash, peeled and seeded (weight after it's peeled and seeded)
1 Small onion, chopped
3 cups Water
1 ½  cup Milk
2 tbsp Butter
1 tsp Powdered chicken stock
Salt and pepper to taste
Fresh chopped parsley for serving
Directions
Chop the kabocha squash into bite size pieces and add them to the inner pot. 
Add all of the remaining ingredients, except for the parsley to the inner pot and stir.
Choose the [Slow Cook] function and set the timer to 45 minutes. Press Start. 
Once complete, transfer the soup to a blender and blend until smooth. 
Top with fresh parsley and serve.
WHAT IS KABOCHA SQUASH?
Sometimes called Japanese pumpkin, kabocha is a winter squash with a hard, dull-green outer skin. But open it up and you'll be greeted by an interior that is vibrant yellow/orange with a taste that straddles the line between sweet and nutty.
Not only used in soup, the versatile kabocha squash can be roasted, stewed and stuffed as well. (Just check out this deliciously meaty stuffed kabocha recipe).
Now, while the rind is edible with the proper amount of cooking time, we're just using the inside flesh for this kabocha pumpkin soup. You'll want to remove the seeds as well.
Not only is it the star ingredient in this wonderful soup recipe – you might just be surprised at how easy it is to prepare in your rice cooker.
HOW TO MAKE KABOCHA SOUP IN A RICE COOKER
Just load all of your soup ingredients (except the parsley) into the inner pot of your Tiger multifunctional rice cooker. When you select the Slow Cook preset for 45 minutes, you're almost there!
Once the cooking cycle finishes, blitz it in a blender until velvety smooth – top with fresh chopped parsley, and you're good to go.
The nutty flavors of the kabocha shine through – and are complemented by the inclusion of savory chicken stock, and the creaminess of butter and milk. The herbaceousness of fresh parsley is the finishing touch. It's above and beyond delicious!
Products used in this recipe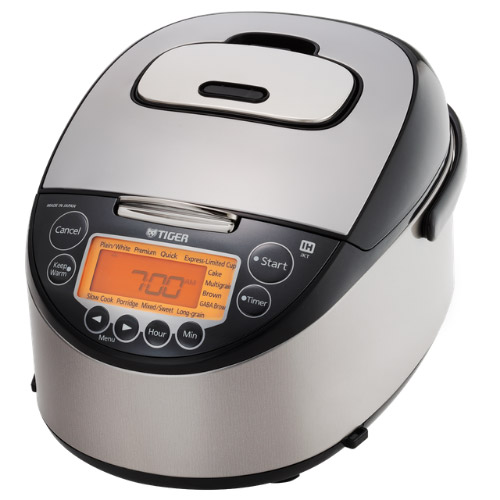 Induction Heating Rice Cooker JKT-D10U/18U
Made in Japan The TIGER JKT-D multi-functional induction heating (IH) electric rice cooker allows yo […]
LEARN MORE