Rice Cooker
Black Bean Soup
Make this delicious, thick and hearty black bean soup in your rice cooker. You're going to love it!
Servings

3-4

Preparation

20 min

Cooking

90 min
Ingredients
1 Small onion, finely chopped
2 Celery ribs, finely chopped
2 Garlic cloves, minced
2 tsp Curry powder
1 tsp Kosher salt
2 cans (15oz) Black beans, drained and rinsed well
2 ½ cups Low sodium chicken stock or vegetable stock
Ground black pepper
Directions
Place all the ingredients the inner pot.
Select the [Slow Cook] menu and set for 90 minutes. Press the [Start] key.
When cooking is complete, transfer half of the soup to a blender and blend until smooth.
Blend half of the soup and return to the inner pot. Stir and season with more salt and pepper if needed.
AN EASY BLACK BEAN SOUP RECIPE
We love recipes that are easy to whip up after a long day at work or school. Heck, it's tough enough to cook instead of just ordering delivery. Why make the process more difficult by attempting a laborious recipe with 50 steps!?
For this black bean soup, we're using canned black beans – and veggies you likely have in the crisper already. Easy, right?
But don't let the simplicity fool you – it's super flavorful! Aside from the traditional flavors you'd expect in a black bean soup, we've employed a secret weapon: curry powder. Just a couple of teaspoons elevates this rustic soup from traditional to unforgettable!
Now, we used chicken broth in this easy soup recipe for an added boost of hearty and savory flavor. However you can use vegetable broth and make this a totally vegetarian soup recipe if you're so inclined.
HOW TO MAKE BLACK BEAN SOUP IN A RICE COOKER
Sure, your Tiger rice cooker makes perfect rice – however, it's also ready to whip up all types of delicious and healthy meals with the press of a button. So, whether you're craving this soupy black bean recipe – or something along the lines of this beef satay, or this breakfast frittata – your Tiger multicooker is ready to rock!
Simply place all the ingredients for this easy soup recipe into the inner pot of your rice cooker. When you select the Slow Cook setting, your chopped veggies and black beans will cook to absolute perfection. And you'll develop the deep flavors you used to have to create by simmering on the stovetop for the better part of an afternoon. Plus, with your rice cooker, there's no need to keep your eyes glued to the pot.
A recipe that's both easy AND delicious… We'd call that a win / win!
Products used in this recipe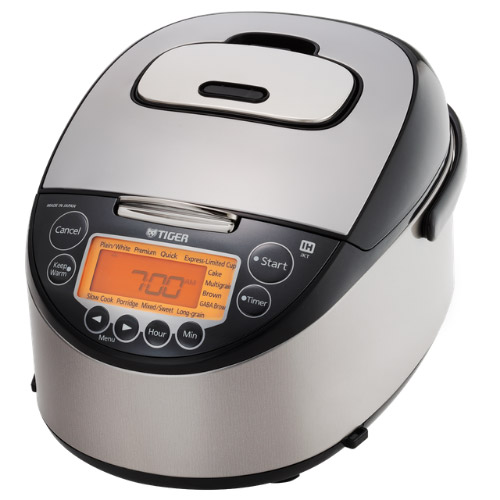 Induction Heating Rice Cooker JKT-D10U/18U
Made in Japan The TIGER JKT-D multi-functional induction heating (IH) electric rice cooker allows yo […]
LEARN MORE