Rice Cooker
Beef Satay
Gluten Free
Synchro Cooking
This beef satay with peanut sauce recipe is a Southeast Asian favorite. And you can make it easily in your rice cooker!
Servings

2

Preparation
Cooking
Ingredients
1 pcs Shallot
2-inch Galangal (Thai ginger)
2-3 cloves Garlic
1 tsp Cilantro seeds
1 pcs Lemongrass (base only)
1 tbsp Water
1 tsp Turmeric powder
1 tsp Cumin seed powder
1 tsp Sugar
A pinch Salt
Skewer as needed
Peanut sauce as needed
Cucumber as needed
Onion as needed
1 pcs Shallot
2-inch Galangal (Thai ginger)
1-2 cloves Garlic
1 pcs Lemongrass (base only)
1 tbsp Water
1 ½ tbsp Vegetable oil
1 tbsp Sambal (chili sauce)
½ tbsp Tamarind pulp
½ cup Water (for tamarind)
3/8 cup Peanuts (crushed)
1 tbsp Peanut butter (with chunks)
1 ½ tbsp Sugar
½ cup Water
A pinch Salt
Directions
Slice the beef into bite-sized pieces.
Chop the ingredients for the marinade and place them into a mixer. Mix the ingredients in the mixer until the texture becomes pasty and mix them with turmeric powder, cumin seed powder, sugar and salt.
Mix well and refrigerate the mixture for more than 1 hour.
[For the JBX-A model, stack the healthy cooking plate on top of the tacook  cooking plate.] Place the mixture on top of the tacook cooking plate.
Put the washed rice and water in the inner pot, and place in the rice cooker.
Set the cooking plate in the inner pot. Select the [Synchro-Cooking] menu and press the [Start] key.
Cut the cucumber into chunks. Chop the onion into ½ inch sized cubes.
When cooking is complete and the meat has cooled, stick on skewers and place them on a serving plate. Serve the dish with the peanut sauce, cucumbers and onions on the side.
Dissolve the tamarind in water and strain. Remove the seeds.
Place chopped shallot, galangal, garlic cloves, lemongrass and water in a bowl. Mix the ingredients until the texture becomes pasty.
Heat the mixture with vegetable oil and sambal in a skillet and sauté the ingredients until fragrant.
Add tamarind, peanuts, peanut butter, sugar and water. Simmer the ingredients until the liquid is reduced. Add salt for flavor.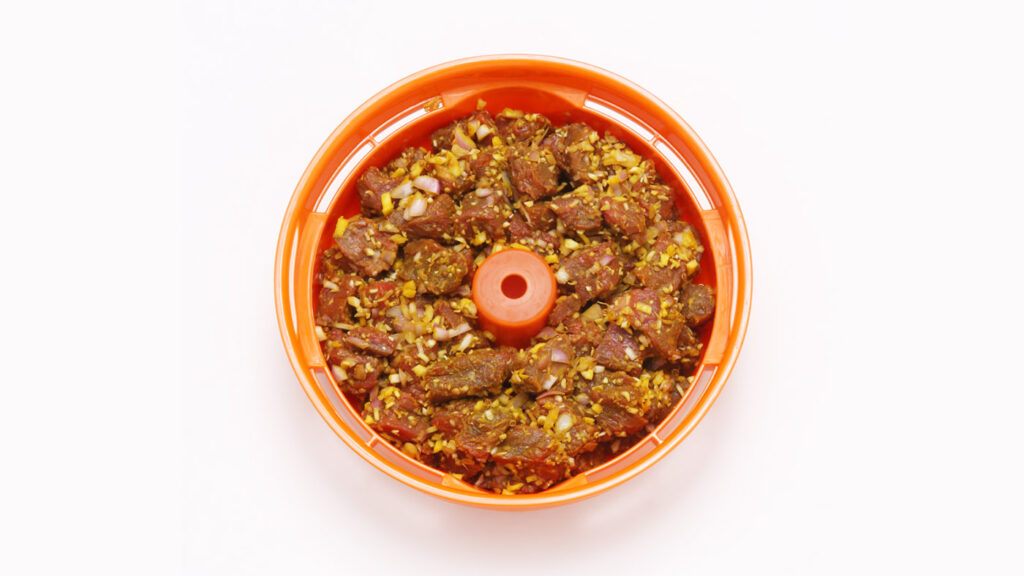 WHAT IS SATAY?
Satay is grilled meat that has typically been skewered and is served with a dipping sauce. Popular throughout Southeast Asia, there are slight differences in flavor between Indonesian, Malaysian and Thai satay recipes.
And we'd be remiss if we didn't mention that satay runs some pretty close parallels to Japanese yakitori.
Now, satay can be made with many different proteins. Chicken satay and satay beef are two of the most popular versions – however it can also be prepared with fish, mutton or even tofu.
But our favorite part of any satay is the dipping sauce!
THIS BEEF SATAY RECIPE HAS THE BEST PEANUT SAUCE
Aside from the delicious, tender meat, the main source of flavor in these skewers comes from the satay sauce.
We've modeled our peanut sauce on the classic satay sauces of Southeast Asia. Contributing to the salty, sweet, sour and garden fresh flavor notes are things like lemongrass, shallots, galangal, tamarind and sambal. Oh yeah… and of course peanuts and chunky peanut butter.
For step by step instructions and ingredient quantities, check out the Ingredients tab on this page.
We think, aside from the outrageous flavor of this beef satay, you're going to love how easy it is to make at home!
HOW TO MAKE BEEF SATAY IN A RICE COOKER
Now, here's something you're probably not used to hearing when making beef satay: no charcoal grill, no problem!
That's right. We'll be using our rice cooker to make both this satay beef AND rice all at the same time.
You see, your Tiger rice cooker comes equipped with a tacook cooking plate. Therefore, when you use the Synchro-Cooking setting, your rice will steam to perfection in your multicooker's inner pot – and the vapor that is produced cooks your beef in the plate above. 
It's a little bit of magic and a whole lot of science! But how it happens is less important than how it tastes.
And in the case of this beef satay, we'd rate the flavor at 11 out of 10, ha!
Enjoy!
Products used in this recipe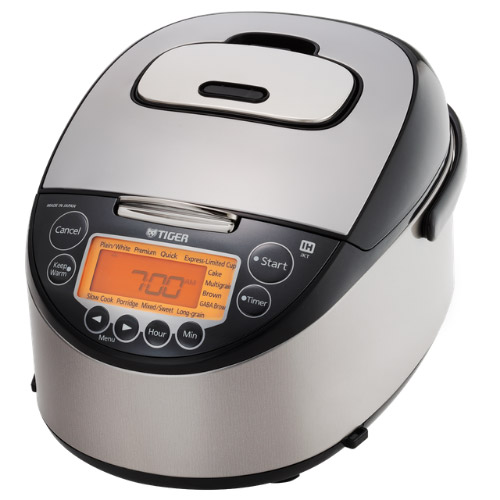 Induction Heating Rice Cooker JKT-D10U/18U
Made in Japan The TIGER JKT-D multi-functional induction heating (IH) electric rice cooker allows yo […]
LEARN MORE