Rice Cooker
Slow Cooker Pumpkin Soup
Try this velvety smooth slow cooker pumpkin soup and say hello to the flavors of autumn!
Servings

3-4

Preparation

10 min

Cooking

45 min
Ingredients
½ cup Onion, chopped
1 cup Carrot, diced
1 (15oz) can Pumpkin puree
½ cup Coconut milk
2 cloves Garlic, minced
½ tablespoon Curry powder
½ teaspoon Cinnamon powder
2 ½ cups Vegetable broth
Salt and pepper for flavor
Directions
Place all the ingredients in the inner pot of rice cooker and stir well.
Place inner pot in the rice cooker. Select [Slow Cook] menu and set for 45 minutes. Press [Start] key.
Once cooked, transfer the soup to a blender and puree until smooth. Serve in a bowl.
NEED AN EASY SOUP RECIPE THIS FALL? TRY THIS SLOW COOKER PUMPKIN SOUP
Right around the time the breeze cools down and the leaves start changing colors, we inexplicably start to crave dishes made with pumpkin! Seriously, whether it's a savory dish like this meat-and-cheese-stuffed kabocha squash (Japanese pumpkin) – or a sweeter dessert like this indulgent pumpkin pudding, we can't get enough!
Hey – maybe that craving is just nature's way of reminding us to eat what's in season.
Well, add this delicious vegan pumpkin soup to the list of healthy autumnal inspired food you can make in any season! There's an understated sweetness from pumpkin puree and coconut milk that is tempered and countered by savory vegetable broth and the warmth of curry powder and cinnamon. YUM!
HOW TO MAKE PUMPKIN SOUP IN A RICE COOKER
You probably know that your Tiger rice cooker is just as suited to making soup as preparing perfect rice. No joke… Our soup game is tight!
And that's just a few of our easy soup recipes you'll find on our website and in our cookbooks.
The secret weapon (from an appliance perspective) when whipping up this delicious vegetarian pumpkin soup is the Slow Cook setting. You see, placing all your ingredients in the inner pot of your rice cooker and pressing Start means you never have to watch over the soup-pot and wonder if everything is properly cooked. 45 minutes is all it takes in your Tiger multicooker. When the timer goes off, give your soup a quick blend so it's silky smooth and then serve it up. And that's it! Told you it was easy…
You and your family are going to love this delicious pumpkin soup no matter what season it happens to be outside!
Products used in this recipe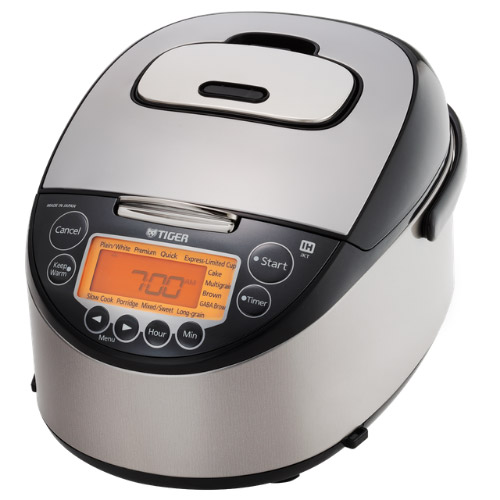 Induction Heating Rice Cooker JKT-D10U/18U
Made in Japan The TIGER JKT-D multi-functional induction heating (IH) electric rice cooker allows yo […]
LEARN MORE