Rice Cooker
Pumpkin Pudding
Gluten Free
Synchro Cooking
At the end of a satisfying meal, there's almost always a little room for dessert. Dig a spoon into this perfectly sweet Japanese pumpkin pudding to satiate your ravenous sweet tooth!
Servings

2

Preparation
Cooking
Ingredients
¼ Squash
1 Egg
1/3 cup Palm sugar
1 tbsp Flour
2/5 cup Coconut milk
A pinch Salt
Vegetable oil as needed
Directions
Peel squash and cut it into thick strips.
Place eggs and palm sugar in a bowl and mix well until the palm sugar is dissolved.
Add flour and mix well until the flour is fully dissolved. Add coconut milk and salt. Mix and strain the mixture.
Lightly spread the vegetable oil over the tacook  cooking plate. Pour mixture onto the cooking plate and spread the squash evenly.
Put the washed rice and water in the inner pot and place it in the rice cooker.
Set the cooking plate in the inner pot. Select the [Synchro-Cooking] menu and press the [Start] key.
When cooking is complete, remove the cooking plate from the inner pot. Let it cool and then refrigerate the pudding.
Once the pudding has hardened, cut using a rubber spatula, etc. and place the pieces onto a serving plate.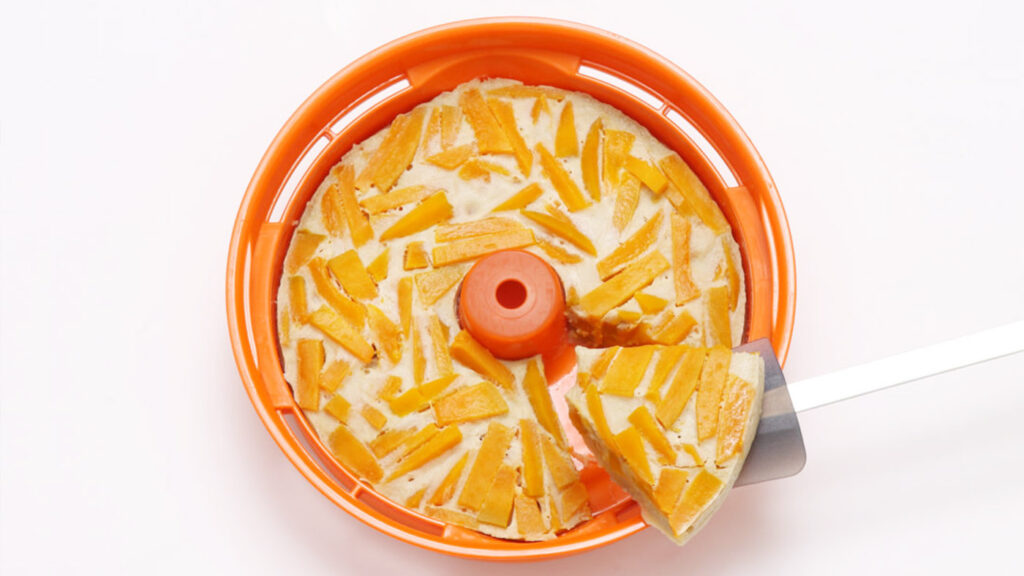 A JAPANESE PUMPKIN DESSERT
Do you like pumpkin custard? How about a crustless pumpkin pie? Well, we've got a sweet treat that sort of finds middle ground between those two classics – while forming something entirely new!
This pumpkin pudding nails the perfect balance between a composed dessert and the sort of natural perfection that pumpkin offers. By relying on kabocha squash (a Japanese pumpkin) for the core of its sweetness, this dessert is delicious without being cloying or over-sweet.
Good news: kabocha squash is usually pretty easy to find at your corner grocery store. Just look for a squat pumpkin with a dull, dark green skin.
Great news: Once you cut into it, the yellowish-orange flesh is super sweet – and provides most of the sweetness in this pumpkin pudding (you'll just add a bit of extra palm sugar when mixing).
And the best news is: you can totally make this easy pumpkin dessert recipe in your rice cooker!
HOW TO MAKE PUMPKIN PUDDING IN A RICE COOKER
Making dessert in your rice cooker isn't the anomaly it once was. You see, modern multi-functional rice cookers are capable kitchen appliances that do WAY more than just make perfect rice.
So whether you're making a savory lemon chicken orzo soup or a rustic nikujaga – OR have dessert on the brain and opt for a moist carrot cake or simple poached fruit – your Tiger multi cooker is always up to the task at hand.
Therefore, in the case of this sweet Japanese pumpkin pudding, you'll just load the tacook cooking plate with your strained pudding mixture and then layer your sliced pumpkin on top.
After cooking with the Synchro-Cooking setting, allow the pudding to cool in the refrigerator. Then simply slice and serve!
Dessert is going to be delicious tonight!
Itadakimasu! 😋
Products used in this recipe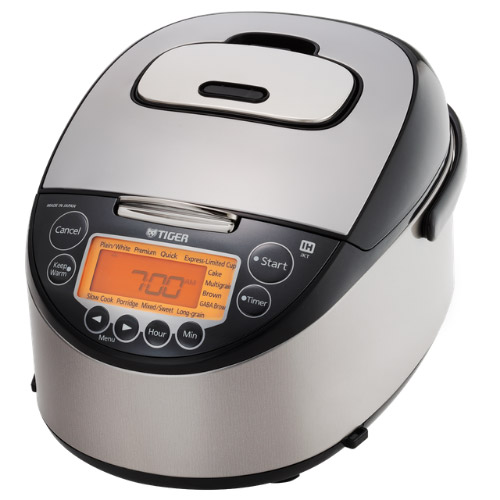 Induction Heating Rice Cooker JKT-D10U/18U
Made in Japan The TIGER JKT-D multi-functional induction heating (IH) electric rice cooker allows yo […]
LEARN MORE