Rice Cooker
Spicy Cabbage Soup
This deeply savory and spicy cabbage soup has some real heat to it! Make this vegan soup recipe in your rice cooker for an easy lunch or dinner.
Servings

3-4

Preparation

15 min

Cooking

60 min
Ingredients
3 ½ cups vegetable broth
2 tablespoons tomato paste
1 14-ounce can diced tomatoes
1 tablespoon olive oil
2 garlic cloves, minced
1 medium carrot, chopped
1 medium potato, peeled and chopped into bite size
3 cups green cabbage, chopped into bite size pieces
1 teaspoon ground cumin
½ teaspoon red pepper flakes
Salt and pepper, to taste
Directions
Add all the ingredients to the rice cooker inner pot and stir.
Close the lid and choose the [Slow Cook] function. Set the timer to 60 minutes and press start.
Season with salt and pepper and serve.
A SPICY CABBAGE SOUP THAT WON'T HAVE YOU BREATHING ACTUAL FIRE
We love a good spicy soup! And whether it's a Thai hot and sour soup – or a Korean influenced tofu kimchi soup – we're all about a soup with a flavor profile that lets you know it's there.
However, there's nuanced spicy – and then there's volcanic, fire breathing spicy. We like spicy food when the heat elevates the dish as a whole. In this spicy cabbage soup, you'll still taste the savory vegetable broth, boosted with umami loaded tomato paste. (That said, if you like to breathe fire, just up the dried red pepper flakes portion to suit your palate.)
Now, we also see cabbage soup as an opportunity to clear out the vegetable crisper in your refrigerator. So there's a little wiggle room when it comes to the veggies you can use.
We're using carrots and potatoes. And, of course, you can't make a cabbage soup recipe without the cabbage! We'd recommend using green cabbage. It's tough enough that it will stand up to a bit of heat in your rice cooker without falling to bits like a more delicate napa cabbage might. Green cabbage will be perfectly tender by the time you spoon it up.
Cumin is our secret weapon in the spice department. The earthy and warming properties from this particular spice balance out the fire from the aforementioned red pepper flakes.
And you're going to love how easy it is to make this cabbage soup in your rice cooker!
HOW TO MAKE SPICY CABBAGE SOUP IN A RICE COOKER
Simply add all of your soup ingredients to the inner pot of your Tiger multifunctional rice cooker and give it all a good stir.
Next, close the lid, select the Slow Cook function for 60 minutes and press the Start key. (Btw… that's pretty much it!)
Finally, once the cooking cycle is complete, just season with salt and pepper to taste and serve. We think you're going to love the tangy, balanced heat in this spicy cabbage soup.
Products used in this recipe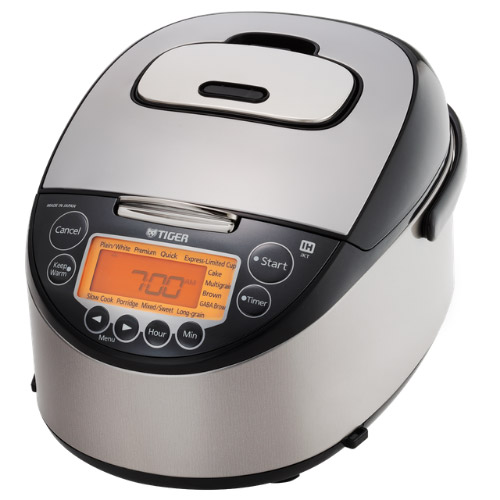 Induction Heating Rice Cooker JKT-D10U/18U
Made in Japan The TIGER JKT-D multi-functional induction heating (IH) electric rice cooker allows yo […]
LEARN MORE