Rice Cooker
Tuscan White Bean Soup
Make this savory and bright Tuscan white bean soup recipe anytime you need a dose of comfort food in your life. It's so easy to make in your rice cooker!
Servings

3-4

Preparation

10 min

Cooking

55 min
Ingredients
4 cups chicken or vegetable broth
½ small onion, finely chopped
1 medium carrot, chopped
1 ½ cup, kale or baby kale, chopped
¼ cup uncooked quinoa, rinsed and drained
1 15-ounce can chickpeas or cannellini beans, drained
½ teaspoon red pepper flakes
¼ teaspoon kosher salt
2 tablespoons lemon juice
½ cup shredded parmesan cheese
Directions
Add the broth, onion, carrot, kale, quinoa, beans, red pepper flakes, and salt to the rice cooker inner pot and mix well. 
Close the lid and choose the [Slow Cook] function. Set the timer to 50 minutes and press start. 
When the cooking is done, open the lid and add the lemon juice and parmesan cheese. Stir until the cheese has dissolved. 
Divide the soup among bowls and serve immediately.
A HEARTY AND BRIGHT SLOW COOKER SOUP RECIPE
Soup is seriously good stuff. Whether it's a silky Tomato soup with basil – or a fiery Korean seafood noodle soup – it's just the kind of comfort food that fortifies both body and mind.
And we love using slow cookers when making soup. There's a certain set-it-and-forget-it aspect to using a slow cooker that minimizes tasks in the kitchen, while still delivering maximized flavor.
This bright and savory Tuscan white bean soup won't require you to reinvent the wheel in your home kitchen – and is loaded with Mediterranean flavors.
Onions, carrots and kale impart tons of veggie freshness – and we're using quinoa for a light yet hearty boost.
Now, as far as the beans are concerned, you can use chickpeas or cannellini beans. Your choice. They both work well in this white bean soup recipe.
The secret weapon in this recipe is lemon juice. It delivers a light, breezy tartness in contrast to the savory chicken broth. Btw… if you want to make this a vegan soup recipe, simply swap the chicken broth with vegetable broth – and omit the Parmesan cheese. Easy!
HOW TO MAKE TUSCAN WHITE BEAN SOUP IN A RICE COOKER
Simply load the inner pot of your Tiger multifunctional rice cooker with all of your soup ingredients (EXCEPT the lemon juice and Parmesan cheese).
Then stir well, close the lid, select the Slow Cook setting for 50 minutes and press the Start button.
Once the cooking cycle has finished, open the lid, add your Parmesan and lemon juice, stir and serve.
Products used in this recipe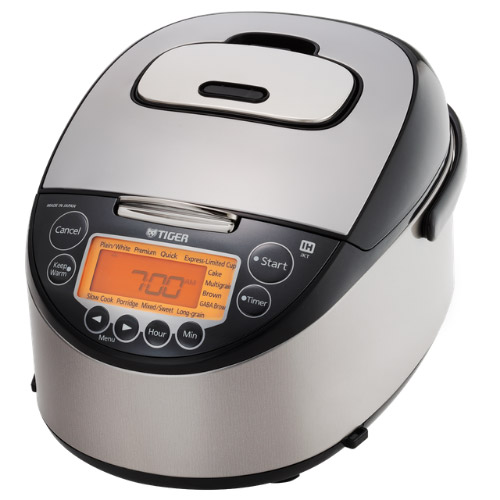 Induction Heating Rice Cooker JKT-D10U/18U
Made in Japan The TIGER JKT-D multi-functional induction heating (IH) electric rice cooker allows yo […]
LEARN MORE