Rice Cooker
Vegan Sausage, Cabbage, and Brown Rice Soup
This plant based brown rice soup fires on all flavor cylinders – and gets an extra boost from cabbage and hearty vegan sausage!
Servings

2

Preparation

10 min

Cooking

75 min
Ingredients
2 garlic cloves, minced
½ cup brown rice
1 ½ cup green cabbage, finely chopped or shredded
1 or 2 vegan sausages such as Beyond Meat Spicy Sausage, chopped into bite size pieces
4 cups vegetable broth or water
Salt and pepper, to taste
Grated parmesan cheese, as a topping (optional)
Directions
Put all the ingredients in the rice cooker inner pot, stir, and close the lid.
Select the [Slow Cook] function and set the timer to 75 minutes. Press start.
Serve the soup in bowls and top with shredded parmesan cheese.
A HEARTY CABBAGE SOUP MADE WITH VEGAN SAUSAGE
We love eating plant based meals that don't taste like they're missing something integral to the flavor profile. This brown rice soup is a prime example of a vegan soup that doesn't feel like a compromise at all!
Loaded with healthy cabbage and hearty brown rice, this is one soup that already has everything on board you might want in a filling soup recipe. But we're upping the ante with the inclusion of vegan sausage that introduces legions of smoky goodness to the mix.
Plant based sausage comes in many shapes and sizes these days. Some are made with pea protein – while others rely on a more traditional soy base. No matter which option you go for, we'd recommend choosing something flavor-forward (we're big fans of spicy Italian sausage, just sayin').
But no matter which plant based sausage you choose for this brown rice and cabbage soup recipe, we think you'll love how easy it is to make in your rice cooker!
HOW TO MAKE VEGAN SOUP IN A RICE COOKER
To start, simply load all of your soup ingredients into the inner pot of your Tiger multifunctional rice cooker.
Mix well, close the lid and select the Slow Cook setting for 75 minutes. Once you press the Start button, your work is done! Sit back and relax.
After the timer sounds off, get your ladle and go to town!
We like to grate a bit of Parmesan cheese on top of this delicious cabbage soup – but feel free to omit it if you're following a strict plant based diet.
Products used in this recipe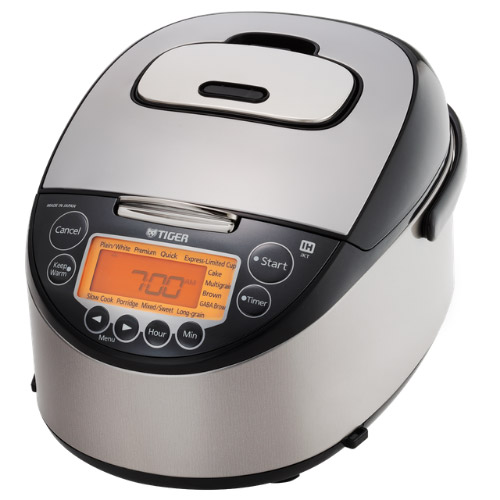 Induction Heating Rice Cooker JKT-D10U/18U
Made in Japan The TIGER JKT-D multi-functional induction heating (IH) electric rice cooker allows yo […]
LEARN MORE