Rice Cooker
Red Curry Squash Soup
This fiery red curry squash soup pulls double duty as a dish full of healthy goodness – and a bringer of Southeast Asian savory + sweet heat!
Servings

3-4

Preparation

15 min

Cooking

45 min
Ingredients
1 pound, peeled and seeded, kabocha squash, acorn squash, or butternut squash, chopped into bite size pieces
2 garlic cloves, chopped 
1 small onion, chopped
4 cups water
1 tablespoon coconut oil
2 to 3 tablespoons red curry paste
1 teaspoon ground cumin
1 teaspoon ground coriander 
½ teaspoon kosher salt
2 teaspoons fresh lime juice (optional)
Fresh chopped cilantro, as a topping (optional)
Directions
Add all the ingredients – except for the cilantro and lime juice – to the rice cooker inner pot.
Stir and close the lid. Choose the [Slow Cook] function and set the timer to 45 minutes. Press Start. 
Once complete, transfer the soup to a blender, add the lime juice, and blend until smooth. 
Top with chopped cilantro and serve.
A RED CURRY SQUASH SOUP THAT PACKS FLAVOR AND HEAT🔥
We're by no means strangers to making squash in our rice cookers. Whether it's a Parmesan loaded cheesy spaghetti squash, a savory slow cooker butternut squash risotto – or a hearty stuffed kabocha squash – squash in its many iterations just does it for us.
And when it comes to this red curry squash soup, we think you're going to love the well rounded flavor profile. It has as much to do with a Thai red curry as it does with a squash soup!
Feel free to use kabocha squash, acorn squash or butternut squash. Whatever you have handy will work well. All three varieties have an inherent sweetness that will counteract the spiciness of the red curry.
And when we say spicy – we mean it really packs a punch! We'd say that 2-3 tablespoons of red curry paste will do the trick (obviously the more, the hotter!).
A little cumin and coriander round out the curry with a bit of dry earthiness.
Even if you're not normally a fan of squash, we'd say that this red curry squash soup packs enough auxiliary flavors that it might still be a good fit for your dinner table.
And you're going to love how easy it is to make in your rice cooker!
HOW TO MAKE RED CURRY SQUASH SOUP IN A RICE COOKER
Just add all the soup ingredients (EXCEPT the cilantro and lime juice, which are optional) to the inner pot of your Tiger multifunctional rice cooker. You'll use the Slow Cook setting for 45 minutes.
After cooking is complete, transfer the squash soup to a blender or food processor and blitz until smooth.
You can top the individual serving bowls with a splash of lime and a few cilantro leaves if you want – or just serve the soup as is.
Either way, you're gonna love it!
Products used in this recipe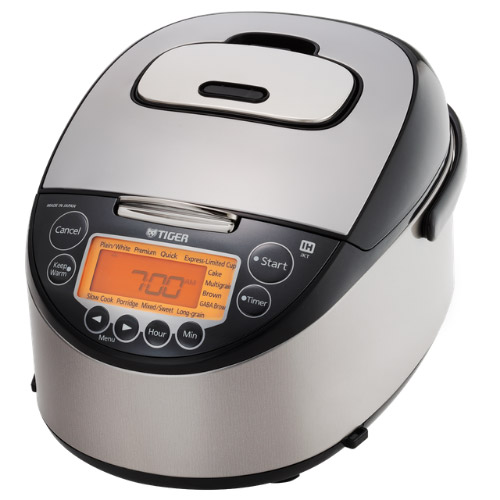 Induction Heating Rice Cooker JKT-D10U/18U
Made in Japan The TIGER JKT-D multi-functional induction heating (IH) electric rice cooker allows yo […]
LEARN MORE