Rice Cooker
Slow Cooker Butternut Squash Risotto
Make this creamy and umami slow cooker butternut squash risotto at home in your rice cooker, and win big at dinnertime!
Servings

3-4

Preparation

20 min

Cooking

75 min
Ingredients
2 cups Cubed butternut squash
½ cup Onions
1 ½ cup Brown rice
4 cups Vegetable broth
½ cup Grated parmesan
2 tbsp Unsalted butter
Salt and pepper for flavor
Directions
Peel, slice and scoop out the seeds for the squash. Cut into cubes. Finely chop yellow onions.
Place rice, butternut squash and onions in the inner pot. Pour vegetable broth. Make sure all the rice is soaked in the broth.
Place inner pot in the rice cooker. Select [Slow Cook] menu and set for 75 minutes. Press [Start] key.
Once complete, place butter, salt and pepper and mix. Serve in a bowl. Sprinkle Parmesan cheese on top.
WHAT IS RISOTTO?
Risotto is a rice dish that hails from Lombardy in Northern Italy. Creamy and indulgent, most variations call for white wine, broth, butter, onion and parmesan cheese to be introduced during the cooking process rather than just plain water.
Many variations of risotto exist. Mushroom risotto is one of our favorites – as is any risotto that calls for the use of spring peas. YUM! Loaded with savory, umami flavor, risotto is truly one of life's indulgent mealtime pleasures!
However, it can be kind of tricky to ace the cooking technique when making risotto at home. Luckily, we have the perfect tool for your cooking exploits!
HOW TO MAKE RISOTTO IN A RICE COOKER
Making risotto is a rice cooker isn't in the experimental phase anymore.
Heck, this definitely isn't our first rodeo when it comes to making risotto recipes in a rice cooker! If you're a big fan of rich, savory and creamy risotto, you can also check out this bacon and parmesan risotto and this toothsome mushroom and fennel farro risotto.
Anyhow, the secret to this butternut squash risotto is using the Slow-Cook setting on your multi-functional rice cooker. Simply place your rice, cubed butternut squash, onions and broth in the inner pot. Stir well and set the timer for 75 minutes – then press the Start key.
Unlike most risottos, there's no need to keep a constant eye on the pan on your stovetop. This slow cooker risotto takes care of itself – and when the timer sounds off, you're good to go. Stir in butter and salt + pepper once cooking is complete – and top with grated parmesan cheese.
It's so savory, creamy, slightly sweet and indulgent that we're SURE you're going to love it. And since you used your rice cooker, whoever draws cleanup duty after dinner will feel like they got a free pass!
Buon appetito!
Products used in this recipe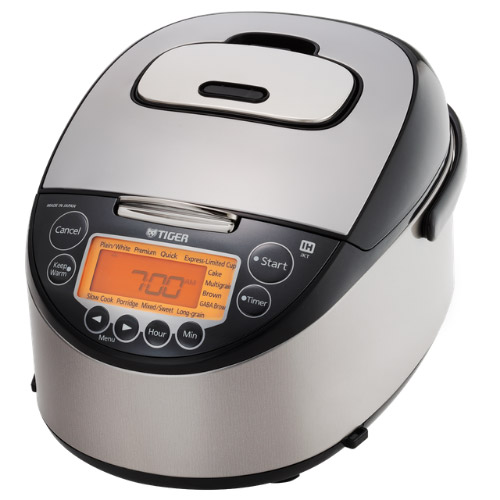 Induction Heating Rice Cooker JKT-D10U/18U
Made in Japan The TIGER JKT-D multi-functional induction heating (IH) electric rice cooker allows yo […]
LEARN MORE