Rice Cooker
Bacon and Parmesan Risotto
It's no secret that we're HUGE fans of rice!
You see, from Japanese rice to Thai rice, Chinese rice, Italian rice – and all rice recipes in between… they are just ALL good in our book.
We'll come right out and say it: we have no allegiances when it comes to yummy food. Deliciousness knows no borders!
And it's in that spirit that we appreciate and – dare we say it… LOVE risotto. Whether it's an umami loaded mushroom risotto, a saffron infused risotto alla Milanese – or this savory bacon and Parmesan loaded rice cooker risotto recipe, we just can't get enough.
We're sure you feel the same way.
So, let's cook Parmesan risotto!
Ingredients
1 cup (supplied measuring cup) white rice
1 (1.8 oz) block of bacon
0.7 oz onion
1/2 tsp ginger (grated)
3 1/3 tbsp white wine
A dash in salt and pepper
2 tsp bouillon powder
2 tbsp grated Parmesan cheese
black pepper for flavor
Directions
Chop the onion finely and cut the block of bacon into cubes.
Wash the rice in the inner pot and add white wine, salt and pepper, bouillon powder and garlic. Add the water up to level 1 of the [Risotto] scale and mix well.
Place 1 on 2. Select the [Risotto] menu and press the [Start] key.
When cooking is completed, add the grated Parmesan cheese and mix lightly. Place the dish on the serving plate and sprinkle it with black pepper.
WHAT IS RISOTTO?
Risotto is a creamy rice dish that originally hails from Lombardy in northern Italy. Many variations exist, however most call for white wine, broth, butter, onion and Parmesan cheese.
The velvety texture of a good risotto creates a luxurious mouthfeel that is tough to beat.
And it's usually pretty tricky to nail the cooking technique of risotto. But we may have a little trick up our sleeve for making a delectable bacon and Parmesan risotto at home with minimal effort.
HOW TO MAKE PARMESAN RISOTTO IN A RICE COOKER
Good news, friends! While most risotto recipes call for keeping an eye closely peeled on the consistency of your cooking rice, making this bacon and Parmesan risotto in your JAJ rice cooker is a breeze.
You see, this little multicooker packs a serious punch. Simply add all the ingredients for this easy risotto to the inner pot of your rice cooker and select the Risotto setting.
That's it! You'll be eating savory and creamy rice in no time flat. Once the timer goes off, add some Parmesan and black pepper. YUM 😋
It's delicious! And you'll love how easy the after dinner clean up is.
So, how do you make the best risotto ever?
Well, no matter which cooking method you choose, we'd definitely start with a healthy amount of Parmesan cheese. And then add a whole lot of love!
Buon appetito!
Products used in this recipe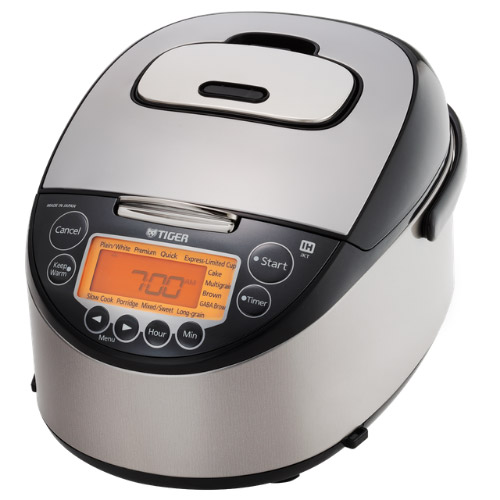 Induction Heating Rice Cooker JKT-D10U/18U
Made in Japan The TIGER JKT-D multi-functional induction heating (IH) electric rice cooker allows yo […]
LEARN MORE