Rice Cooker
Cheesy Spaghetti Squash
Ready to dig into one of the best spaghetti squash recipes of all time? This cheesy spaghetti squash is loaded with umami, and is one of the easiest rice cooker recipes of all time!
Servings

3-4

Preparation

10 min

Cooking

90 min
Ingredients
1 medium spaghetti squash (about 2 pounds)
¼ cup water
½ cup shredded parmesan cheese or Gruyère cheese
Salt and pepper, to taste
Directions
Rinse the spaghetti squash and using a paring knife, poke several holes around the spaghetti squash. Cut off the ends and place the squash in the rice cooker inner pot. Add the water and close the lid.
Select the [Slow Cook] function and set the timer for 90 minutes. Press start.
Take the spaghetti squash out of the inner pot and place it on a cutting board. Slice in half, lengthwise. Scoop out the seeds and shred the squash with a fork. 
Transfer to a bowl and top with parmesan cheese, salt, and pepper. Serve.
A SET IT AND FORGET IT SPAGHETTI SQUASH RECIPE
Spaghetti squash is such a versatile veggie. Whether you're making a rustic and hearty side dish for a holiday feast – or making spaghetti squash as a pasta alternative – it's such a clutch ingredient to have on hand.
This cheesy spaghetti squash is the best of all worlds. From a textural standpoint, there's the light, pliant crunch from perfectly cooked spaghetti squash – and creaminess from grated Parmesan or Gruyere cheese (btw… you can totally use a combination of those two delicious cheeses).
And the flavor is simple perfection. Spaghetti squash has a light, nutty sweetness with an earthy undertone. And both Gruyere and Parmesan introduce savory umami to the dish without becoming full on salty.
It's rare that a recipe with so few ingredients attains such full flavored magnificence. And you're going to love how simple it is to make this cheesy spaghetti squash in your rice cooker.
HOW TO MAKE CHEESY SPAGHETTI SQUASH IN A RICE COOKER
First things first. Prepare your spaghetti squash. You'll want to trim off the ends of the squash – and poke several holes around the perimeter of the squash skin with a paring knife.
Next, simply add the spaghetti squash and water to the inner pot of your Tiger multifunctional rice cooker.
Select the Slow Cook function for 90 minutes.
After cooking, slice the spaghetti squash in half lengthwise, scoop out the seeds – and shred the squash with a fork.
Finally top with shredded cheese and a little salt and pepper to taste.
You and your dinner guests are going to love this simple and perfect cheesy spaghetti squash recipe. Bon appetit!
Products used in this recipe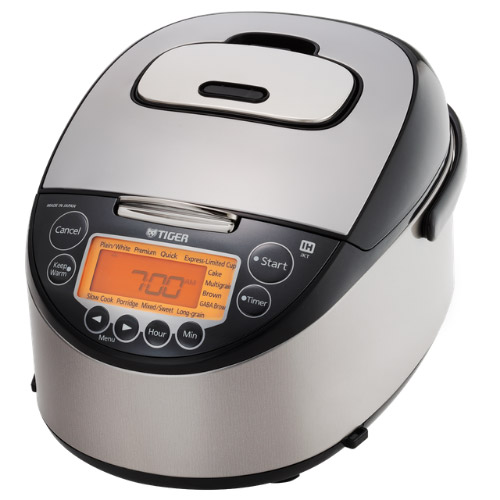 Induction Heating Rice Cooker JKT-D10U/18U
Made in Japan The TIGER JKT-D multi-functional induction heating (IH) electric rice cooker allows yo […]
LEARN MORE