Rice Cooker
Rice Cooker Brussels Sprouts
Make these savory rice cooker Brussels sprouts with minimal fuss + maximum flavor for your holiday meal!
Servings

2

Preparation

10 min

Cooking

45 min
Ingredients
1 lbs Brussels sprouts, rinsed, ends trimmed
2 tbsp Extra virgin olive oil
2 Garlic cloves, minced
1 tbsp soy sauce
1 tbsp water
Directions
Put all the ingredients in the rice cooker's inner pot and stir well to coat the brussels sprouts.
Choose the [Slow Cook] function and set the timer for 45 minutes. Press start. 
Once cooking is complete, season with salt and pepper and serve.
ROASTED BRUSSELS SPROUTS, NO OVEN REQUIRED
Brussels sprouts are the best! Aside from being a healthy veggie side dish, they just taste so darn good. And while they taste wonderful when roasted in the oven or pan-fried, sometimes you've your turkey in the oven and all four burners going simultaneously. Especially during the holidays!
Well, we've got an easy Brussels sprouts recipe you can whip up in your rice cooker. So even though they won't actually be roasting – they'll still make it to the table just in time for you to dig in with family and friends at your holiday feast.
HOW TO COOK BRUSSELS SPROUTS IN A RICE COOKER
Just place all your ingredients into the inner pot of your Tiger rice cooker and mix well. Make sure your Brussels sprouts are evenly coated with olive oil, soy sauce and minced garlic.
When you use the Slow Cook preset, it'll free you up to work on other aspects of your feast without having to keep an eye on your fall veggies.
When they finish cooking, just dust with a little salt and pepper and get your Brussels sprouts on the table. They're full of savory flavor 😋
Now, you may not think of your rice cooker as the first appliance to use when making a Thanksgiving vegetable recipe (or really any vegetable side dish year round). Well, we're here to change all that!
You see, your Tiger multi-functional rice cooker has cooking presets for all types of things aside from making perfect rice.
Bon appetit!
Products used in this recipe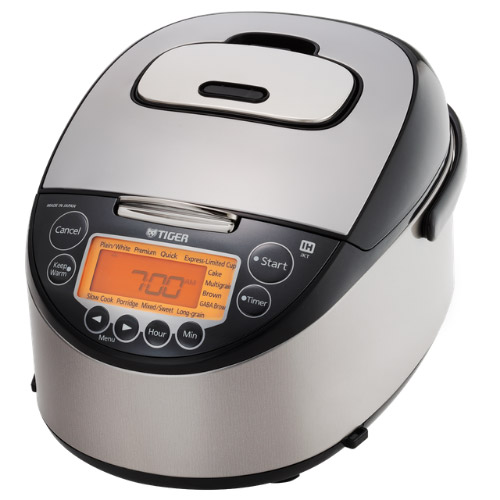 Induction Heating Rice Cooker JKT-D10U/18U
Made in Japan The TIGER JKT-D multi-functional induction heating (IH) electric rice cooker allows yo […]
LEARN MORE