Rice Cooker
Easy Vegetable Stir Fry
Whether you're making a healthy side dish – or want to make veggies the star of your meal – this easy vegetable stir fry recipe is SO delicious. And it's so easy to make in your rice cooker!
Servings

2

Preparation
Cooking
Ingredients
2 cups White rice (supplied measuring cup)
4 Button mushrooms, chopped
½ Small green bell pepper, thinly sliced
1 Small carrot, thinly sliced
1 Garlic clove, thinly sliced
1 tbsp Soy sauce
1 tsp Honey
½ tsp Salt
Directions
Put the washed rice and water in the inner pot and place it in the rice cooker.
Add all the ingredients for the vegetable stir fry in the tacook cooking plate and place it on top of the inner pot. Select the [Synchro-Cooking] menu and press the [Start] key.
When cooking is complete, place the dish on a serving plate and sprinkle chopped green onions.
THIS EASY STIR FRY RECIPE IS PACKED WITH FLAVOR
Veggie stir fry FTW! We love it when delicious, flavor forward food just happens to be good for you as well. And when it comes to stir fried veggies, that's usually the case.
But we're stepping up our healthy game even more with this one – because there's actually nothing fried about it. You see, we're cutting the oil (and the wok) loose with this savory and sweet vegetable stir fry – and making the entire thing in a rice cooker.
Mushrooms, carrots and bell peppers are covered in an easy stir fry sauce that derives savory and umami notes from soy sauce – and a bit of sweetness from honey. If that sounds deceptively simple… well, it is! But there's nothing simple about the outsized flavors in this yummy vegetarian recipe.
And since you're using your rice cooker, not only will the cooking process be an exercise in one-button dinner prep – clean up duty will be an absolute breeze!
HOW TO MAKE VEGETABLE STIR FRY IN A RICE COOKER
By now it's probably not a huge surprise that your Tiger rice cooker can do way more in the kitchen than just cook perfect rice.
Seriously, making anything from banana leaf wrapped fish to Cajun meatballs to carrot cake is doable when you have one of our multicookers on your kitchen counter.
And this easy vegetable stir fry is no exception!
Just place your rinsed rice and water into the inner pot of your rice cooker – and load your cut veggies and stir fry sauce into the tacook cooking plate. When you use the Synchro-Cooking setting, the vapor created by the cooking rice will steam your veggies to perfection at the same time.
And – hey, there's nothing better than veggies and sauce over rice, right!?
Products used in this recipe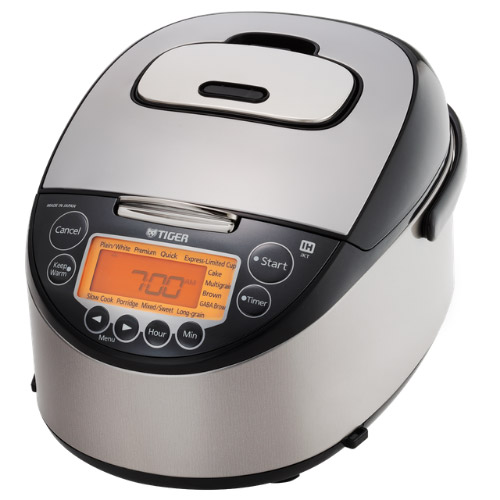 Induction Heating Rice Cooker JKT-D10U/18U
Made in Japan The TIGER JKT-D multi-functional induction heating (IH) electric rice cooker allows yo […]
LEARN MORE