Rice Cooker
Banana Leaf Wrapped Fish
With assertive pungent and tropical flavor to spare, these simple banana leaf wrapped fish fillets are one of our favorite rice cooker recipes of all time!
Servings

2

Preparation
Cooking
Ingredients
2 slices White fish (fillet)
Basil as needed
2-3 pcs Kaffir lime leaf
2 Lemongrass (base only)
1 cup Sambal (chili sauce)
2 Banana leaves
Vegetable oil as needed
2 Shallots
2-inch Galangal (Thai ginger)
2 Garlic cloves
1 inch pc Candlenuts
1 tsp Turmeric powder
1 ½ tsp Cilantro seeds
2 Red chili pepper
1/2 Lemongrass (base only)
2 tbsp Water
1 ½ tbsp Vegetable oil
1 tbsp Sugar
1 medium Tomato
Salt for flavor
White pepper for flavor
Directions
Chop the ingredients and place into a mixer. Mix until the texture becomes pasty.
Pour vegetable oil in a heated frying pan and insert the mixture. Sauté the ingredients until fragrant.
Crush the tomato.
Add sugar and tomatoes in the frying pan.
Add salt and white pepper for flavor.
Tear the basil leaves. String and cut the kaffir lime leaves into thin strips. Cut the lemongrass diagonally.
Lightly spread the vegetable oil over the slightly toasted banana leaves. Place 1/8 of the sambal,
1/8 of basil leaves, kaffir lime leaves and lemongrass. Place a slice of white fish on top.
Place 1/8 of the sambal on top of fish and then place 1/8 of basil leaves, kaffir lime leaves and lemongrass.
Wrap in the banana leaves and place them on the tacook cooking plate.
Put the washed rice and water in the inner pot and place it in the rice cooker.
Set the cooking plate in the inner pot. Select the [Synchro-Cooking] menu and press the [Start] key.
When cooking is complete, place the dish on a serving plate.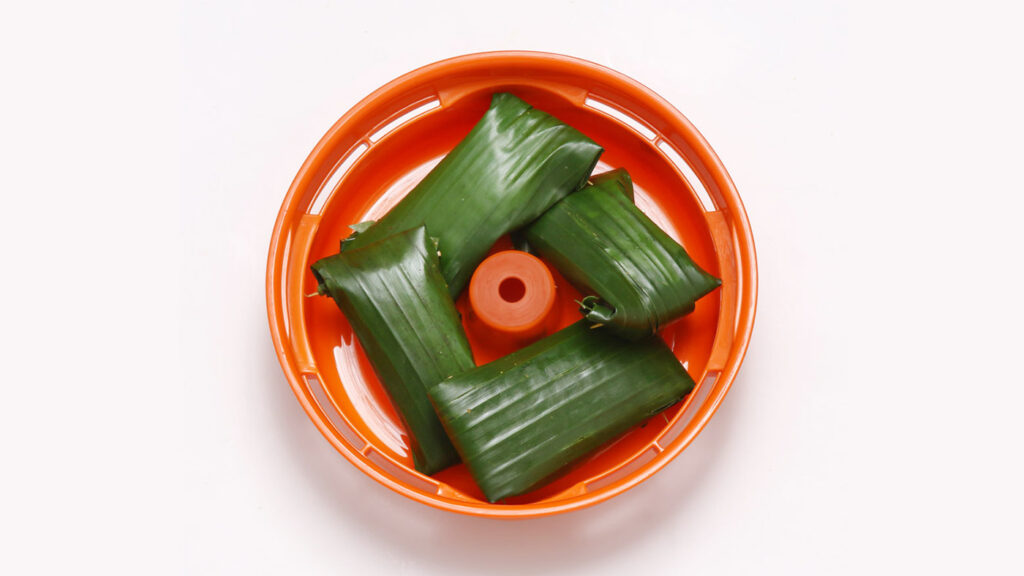 WHAT IS SAMBAL?
Sambal is a pungent Indonesian chili paste which is popularly used in many Southeast Asian cuisines. And while recipes will vary from chef to chef, common ingredients include chili peppers, shrimp paste, shallots, garlic, lemongrass, ginger and palm sugar (gula melaka).
With an ingredients list like that, you know sambal has ALL the flavors. It's delicious!
Now, while you can use a commercially produced premade sambal sauce in this moist fish recipe, we've included simple directions to make your own sambal sauce at home if you prefer.
WHY STEAM FISH IN BANANA LEAVES?
Steaming delicate fillets of fish in banana leaf preserves the natural moistness of the fish and protects it from drying out as it cooks. And, once cooked, when you open those lovely green parcels – the banana leaf releases an unreal tropical aroma. Luckily, that tropical essence has been infused into the fish as well!
This cooking technique is widely used in Indian, Southeast Asian, and Latin American cuisines – and can be employed in any dish you might otherwise use foil or parchment paper.
Whether you're making this fish in sambal sauce, or something like a tamale, wrapping food in banana leaves is a cost effective way to keep natural moisture in your favorite cuisine.
HOW TO STEAM FISH IN A RICE COOKER
It may surprise you, but your Tiger rice cooker is the perfect appliance to use for this tropical steamed fish recipe. You see, using the tacook cooking plate allows you to cook perfect rice in the inner pot at the same time your fish steams to perfection. 
In fact it's the same heated vapor created by the cooking rice that steams your banana leaf wrapped fish fillets to perfection. Pretty cool, right!?
And there's no need to keep your eye on the fish. When the timer sounds off, dinner is served. Simple!
🍲😋
Products used in this recipe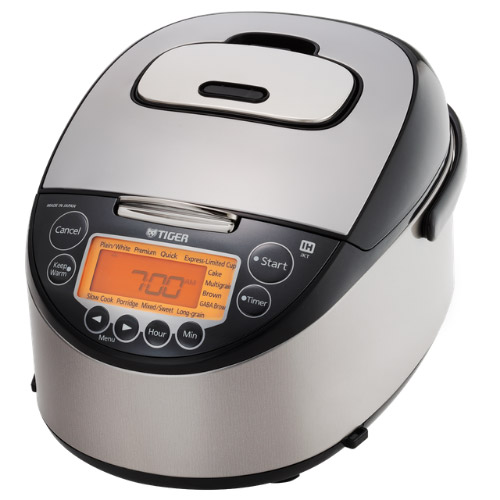 Induction Heating Rice Cooker JKT-D10U/18U
Made in Japan The TIGER JKT-D multi-functional induction heating (IH) electric rice cooker allows yo […]
LEARN MORE