Rice Cooker
Baby Bok Choy with Garlic and Oyster Sauce
This baby bok choy recipe is packed with assertive flavor – and tastes like a stir-fried veggie side dish from your favorite takeout spot!
Ingredients
2 cups White rice (supplied measuring cup)
4 Baby bok choy, sliced
3 Garlic cloves, minced
1 tsp Sesame oil
2 tbsp Oyster sauce
Directions
Place all the ingredients in the tacook cooking plate.
Put the washed rice and water in the inner pot and place it in the rice cooker.
Set the cooking plate in the inner pot. Select the [Synchro-Cooking] menu and press the [Start] key.
When cooking is complete, place the cooked rice with bok choy  in a serving bowl.
AN EASY VEGETABLE RECIPE
It's always kind of amazing when you realize you have the cooking chops to whip up a favorite recipe that you always relied on delivery for. Rejoice, friends! This baby bok choy recipe is one of those Chinese side dishes that tastes complex – but only requires a handful of ingredients, and is literally ready in the press of a button.
WHAT IS BOK CHOY
Bok choy (pak choi) is a type of Chinese cabbage that has white bulbs as stems and darker green leaves. Used in everything from Asian noodle soups to simple vegetable side dishes, it's a super versatile vegetable.
With a crunch somewhere between a cucumber and cabbage, bok choy is sold both in mature form and in baby form. Both are wonderful – but we've found the stems in baby bok choy to be a tad more tender.
This delicious recipe pairs baby bok choy with the funky, savory sweetness of oyster sauce and the garden freshness of sliced garlic.
And the only thing better than the taste is how easy it is to prepare!
HOW TO COOK BOK CHOY IN A RICE COOKER
At first it may not seem like it, but your Tiger rice cooker is actually the perfect kitchen appliance to rely on when it comes to whipping up this Chinese influenced vegetable side dish.
With the tacook cooking plate, you can cook rice AND a composed dish at the same time!
Simply load your rinsed rice and water into the inner pot of your multi-functional rice cooker – and then place your bok choy ingredients in the tacook plate.
When you use the Synchro-Cooking setting, the vapor created by the cooking rice will steam your bok choy and garlic to perfection.
Almost as easy as calling the delivery spot – but 100% homemade!
Bon appétit!
Products used in this recipe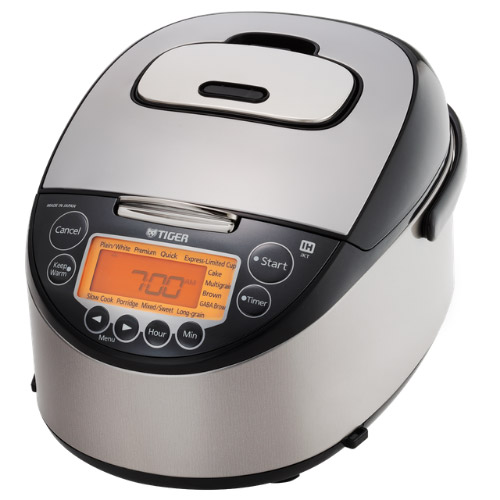 Induction Heating Rice Cooker JKT-D10U/18U
Made in Japan The TIGER JKT-D multi-functional induction heating (IH) electric rice cooker allows yo […]
LEARN MORE