Rice Cooker
Rice Cooker Black Beans
We take the guesswork out of cooking black beans from scratch. Use your rice cooker to make this simple black bean recipe – and you'll be cooking with the press of a button!
Servings

2

Preparation

15 min

Cooking

120 min
Ingredients
1 cup dried black beans
1 small onion, finely chopped
3 cups water
1 teaspoon salt
Directions
Soak the black beans in 3 cups of water and let sit for 10 minutes. Drain.
Place the black beans in the rice cooker and add 3 cups of water, chopped onion and salt. Stir and close the lid.
Select the [Porridge] menu and set the heating time to 120 minutes. Press the [Start] key.
Check after 1 hour and add more water if needed.
MAKE THESE BLACK BEANS PART OF AN EASY DINNER RECIPE
Black beans are the best. And whether you're making a simple rice and beans – or are going all out making tacos with all the fixings – a good pot of beans can make all the difference between a ho-hum weeknight meal, and a dinner that is full of flavor and excitement.
Well, we think this easy black beans recipe definitely falls into the latter category! And the best part is that you only need a couple of ingredients to pull it off.
Some serious alchemy happens when you combine dried black beans, a chopped onion, water and a bit of salt. Hey – with an ingredients list that simple, you may have everything you need to whip up this rice cooker recipe just sitting on your pantry shelves already.
HOW TO COOK BLACK BEANS IN A RICE COOKER
It probably doesn't come as a surprise that you can use your Tiger rice cooker for all types of kitchen tasks other than just cooking perfect rice.
With settings from slow cooking to synchronized cooking, the sky is truly the limit. That's why you'll find recipes as varied as this bacon and potato frittata, or this Chinese spiced braised pork belly – or even this fruit topped Japanese sponge cake – on our website, just waiting for you to try them out at your house for dinner.
For this rice cooker black beans recipe, just soak the dried beans in water for about 10 minutes. Then add all your ingredients to the inner pot of your rice cooker. Finally select the Porridge setting for 120 minutes and sit back while your multi-functional rice cooker works its magic.
No matter whether you're making black beans and rice, or spicy enchiladas, dinner is going to be on-point with this easy multicooker recipe!
Bon appétit!
Products used in this recipe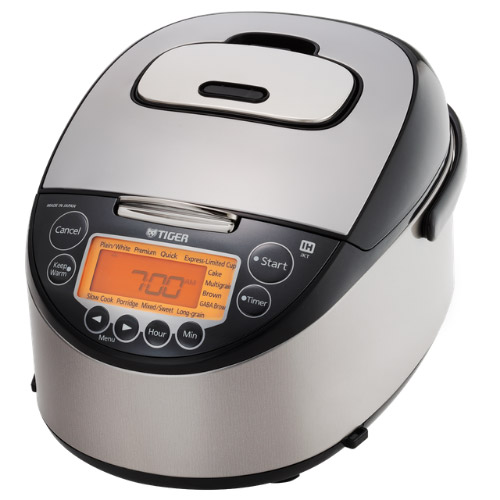 Induction Heating Rice Cooker JKT-D10U/18U
Made in Japan The TIGER JKT-D multi-functional induction heating (IH) electric rice cooker allows yo […]
LEARN MORE