Rice Cooker
Slow Cooker Green Beans
Gluten Free
Slow Cook
Vegan
Vegetarian
Whether you're looking for an easy side dish to round out your Thanksgiving menu, need a dose of comfort food – or are just on a mission to introduce more veggies into your diet, this slow cooker green beans recipe is a winner!
Servings

3-4

Preparation

10 min

Cooking

45 min
Ingredients
3 Garlic cloves, minced
2 tbsp Olive oil
1 lbs Green beans, ends trimmed
Salt and pepper for flavor
Directions
Place all the ingredients in the inner pot and toss well to coat the green beans evenly.
Place inner pot in the rice cooker. Select [Slow Cook] menu and set for 45 minutes. Press [Start] key.
Once complete, serve in a plate.
AN EASY GREEN BEANS RECIPE
We love it when a simple vegetable could either be served as a celebratory holiday recipe – or on any old random Tuesday night. There is a versatility with vegetables that allow humble ingredients to do all the talking!
We've taken fresh green beans and introduced a simple rustic combination of garlic, olive oil and salt + pepper to create a slow cooker recipe that tastes way more complex than the sum of its parts. It's savory, bright and oh so satisfying. And much like a green beans with bacon recipe – or a delicious green bean casserole – there are only a handful of simple pantry ingredients needed to whip it up and get it on the dinner table.
HOW TO COOK GREEN BEANS IN A RICE COOKER
It's as easy as loading all of the ingredients into the inner pot of your Tiger rice cooker and selecting the Slow Cook setting. Press the Start button and your work is done. How's that for easy-breezy!?
Now, if you don't think about your rice cooker as your first choice of kitchen appliance when it comes to making this slow cooker green beans recipe, we can't fault you. But we're here to change all that! You see, your Tiger multifunctional rice cooker does waaay more than just cook perfect rice.
With cooking presets for making anything from a frittata for brunch, Swedish meatballs as a main course – or even sponge cake for dessert, we've got you covered!
Bon appetit!
Products used in this recipe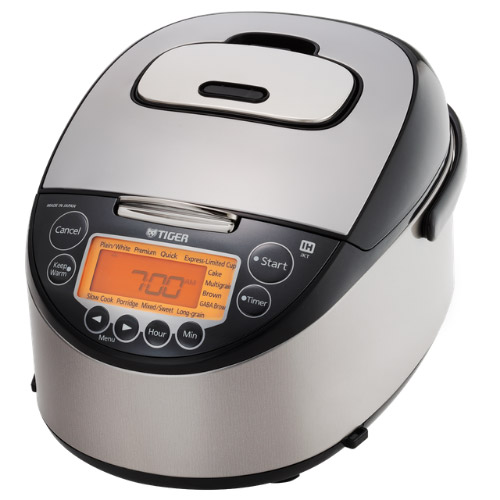 Induction Heating Rice Cooker JKT-D10U/18U
Made in Japan The TIGER JKT-D multi-functional induction heating (IH) electric rice cooker allows yo […]
LEARN MORE