Rice Cooker
Garlic Shrimp with Herbed Rice
Gluten Free
Synchro Cooking
Bursting with flavor, this garlic shrimp with herbed rice is just one of the many easy recipes you can make in your Tiger rice cooker.
And when it comes to tasks in the kitchen, there's nothing quite as simple as cooking with the press of a button!
Servings

2

Preparation
Cooking
Ingredients
2 cups of White rice (with the supplied measuring cup)
5/8 lbs Shrimp (shelled)
1/6 oz Garlic
1 tbsp Olive oil
Salt for flavor
Thyme (chopped) for garnish
Oregano (chopped) for garnish
Green onion (chopped) for garnish
Garlic oil as needed
Salt for flavor
Black pepper for flavor
1 1/2 tbsp Lemon juice
1 1/2 tbsp Extra virgin olive oil
Salt for flavor
Black pepper for flavor
Directions
Devein the shrimp and mince the garlic.
Place the shrimp and garlic on the tacook cooking plate and then add olive oil and salt.
Put the washed rice and water in the inner pot and place in the rice cooker.
Set the cooking plate in the inner pot. Select the [Synchro-Cooking] menu and press the [Start] key.
Place the ingredients for lemon sauce in a bowl and mix well.
When cooking is complete, add the ingredients for the herb mix to the cooked rice. Mix well and place on a serving plate.
Place the shrimp on the side of the rice. Drizzle the oil mixture remaining on the cooking plate over the shrimp and serve it with the lemon sauce on the side
A CLASSIC SHRIMP WITH GARLIC SAUCE
Shrimp cooked to perfection in a garlic and olive oil sauce is prime eating!
And this healthy recipe is a nod to one of our favorite Spanish shrimp recipes of all time: Gambas al Ajillo.
Going to a tapas restaurant and not ordering that dish is absolutely unthinkable. Therefore, we decided to tweak that iconic garlic shrimp recipe and make it our own.
Now, in an effort to keep the spice level in check, we opted to jettison the normal dry crushed red pepper in favor of a more mellow source of heat: black pepper.
And to up the play between savory and tart, we're going for the sun-kissed burst that only fresh lemon juice can bring.
That delicious interplay of ingredients is only heightened by the flavor forward herbs! Thyme, oregano and green onion are added to the rice to bring a garden-freshness to the finished dish.
Yep – this garlic shrimp with herbed rice is a flavor bomb. And you're going to love how easy it is to make in your rice cooker.
HOW TO COOK SHRIMP IN A RICE COOKER
From this bacon and potato frittata to this herbed pomegranate quinoa salad, your Tiger rice cooker is always up to the challenge.
Hey, whipping up food you might not always associate with a rice cooker is kind of our thing!
Much of that is due to Tiger's exclusive tacook cooking plate – which allows you to cook rice and a composed dish at the same time.
For this garlicky shrimp and rice recipe, you'll use the Synchro-Cooking setting. Once you press the Start key, you're finished.
Why not kick your feet up with a glass of wine?
You deserve it, chef!
Products used in this recipe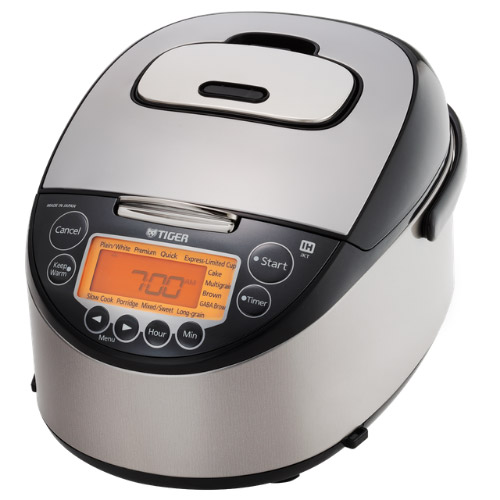 Induction Heating Rice Cooker JKT-D10U/18U
Made in Japan The TIGER JKT-D multi-functional induction heating (IH) electric rice cooker allows yo […]
LEARN MORE