When the leaves start to change colors and the crisp chill of autumn emerges, you'll likely find us at an apple orchard filling our baskets!
And, while we're big fans of apples in all forms, there's just something about a perfectly spiced apple butter that captures the soulfulness of this wonderful fruit.
So, let's welcome the change of season with a loaf of crusty fresh baked bread topped with plenty of fruity and zesty homemade apple butter!
Ingredients
6 large red apples (peeled, cored and finely chopped)
1/4 cup granulated sugar
1/3 cup dark brown sugar, lightly packed
1 teaspoon ground cinnamon
1/2 teaspoon ground ginger
1/8 teaspoon ground cloves
1/8 teaspoon salt
3 tablespoons water
Directions
Put all the ingredients in the multi cooker and set it for 120 minutes.
Transfer the ingredients to a blender and blend until smooth. Let the mixture cool to room temperature and return it to the pot.
Slow cook for an additional 60 minutes for a thicker, richer texture. Serve on toast or pancakes with ice cream or on its own.
Refrigerate in a jar for up to two weeks.
WHAT IS APPLE BUTTER?
Contrary to its name, there is no actual butter used in an apple butter recipe.
Instead it is a combination of pureed apples and warming spices like cinnamon, ginger and cloves that is slow cooked until the sugar in the apples has caramelized. In fact, it is the caramelization that gives apple butter it's trademark dark brown hue.
The flavor is a highly concentrated essence of sweet, sour and spiced apples. Think of a great, complex apple cider – but in spreadable form.
Your oven fresh bread is gonna taste so good with this fruity perfection heaped on top!
HOW TO MAKE APPLE BUTTER
Lucky for you, your Tiger multi cooker is tailor-made for whipping up a delectable slow cooker apple butter.
And the best part: to begin, you just put all your ingredients inside and press the start button.
After two hours on the slow cook setting, transfer everything to a blender or food processor and blend until smooth. Once cooled, you can either dig right in – or slow cook for another hour if you like a thicker, more rich texture.
Apple butter is fantastic on fresh bread. But you can also spread it on pancakes – or even spoon it on ice cream. YUM! In fact, this yummy slow cooker apple butter pairs perfectly with just about anything that could use the rich, soulful addition of pureed and caramelized spiced apples.
Products used in this recipe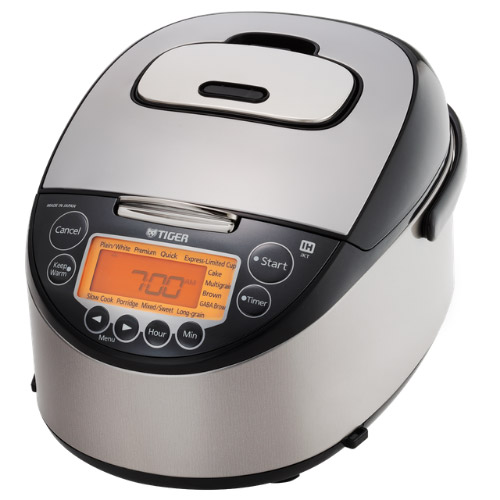 Induction Heating Rice Cooker JKT-D10U/18U
Made in Japan The TIGER JKT-D multi-functional induction heating (IH) electric rice cooker allows yo […]
LEARN MORE