Rice Cooker
Rice Cooker Mashed Potatoes
Gluten Free
Steam
Vegetarian
Whether you're looking for a side dish for roasted chicken – or are making a batch of mashed potatoes and gravy for your Thanksgiving feast, these rice cooker mashed potatoes are so easy to whip up, it may change how you look at making homemade spuds from scratch!
Servings

3-4

Preparation

10 min

Cooking

45 min
Ingredients
4 Potatoes, peeled
5 cups Water
¾ cup Milk
2 tbsp Olive oil
2 tbsp Butter
Salt and pepper to taste
Directions
Place the potatoes and water in the rice cooker's inner pot and choose the [Steam] function. Set the timer for 45 minutes and press Start.
Grab a rice paddle or plastic masher and mash the potatoes inside the inner pot.
Add milk, olive oil, butter, salt, and pepper, and mix until the potatoes are fluffy and smooth. Serve.
THE BEST SILKY SMOOTH MASHED POTATOES
Mashed potatoes are one of the best comfort foods around. Not only do they taste amazing, they go with just about anything. This versatility makes them a fall/winter favorite when making a simple dinner at home – and one of the most iconic holiday recipes of all time.
Well, we've got a method for making mashed potatoes at home that you may not have thought of yet. But we think you're going to love it once you try it.
Oh, and btw… this is one of our favorite EASY rice cooker recipes!
HOW TO MAKE MASHED POTATOES IN A RICE COOKER
With this rice cooker mashed potato recipe there's no need to worry about how long to boil potatoes for mashed. You simply leave the guesswork up to your Tiger rice cooker – and cook with ease!
Peel 4 potatoes and place them in your rice cooker with 5 cups of water. Use the Steam preset on your multi-functional rice cooker and set the timer for 45 minutes. And that's it! Easy, right?
Once the timer sounds off, just add your milk, olive oil, butter and a dash of salt + pepper and mash away with a plastic potato masher – or even the rice paddle that came with the machine.
Your potatoes will be fluffy, smooth and oh so delicious.
And, this is a recipe you can build on. Like garlic mashed potatoes? Just mix in a few cloves of roasted garlic and you're all set!
But no matter how you prefer your spuds, we think you're going to love making mashed potatoes in a rice cooker. It's so simple!
Bon appetit!
このレシピで使用した製品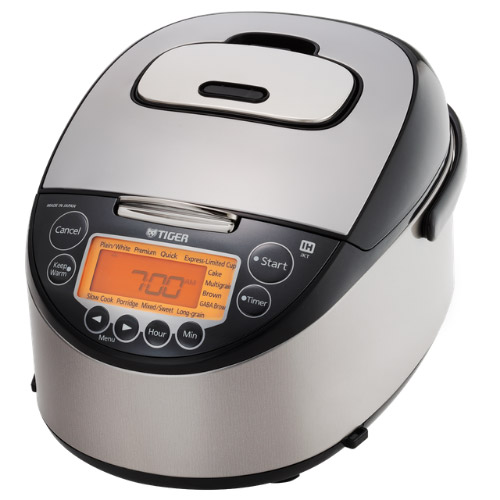 Induction Heating Rice Cooker JKT-D10U/18U
Made in Japan The TIGER JKT-D multi-functional induction heating (IH) electric rice cooker allows yo […]
LEARN MORE