Rice Cooker
Moroccan Carrot Soup
Get this silky pureed Moroccan carrot soup in your steady dinner rotation. Loaded with spiced sweetness, this soup packs a real wallop!
Servings

3-4

Preparation

10 min

Cooking

70 min
Ingredients
3 cups low sodium vegetable broth
2 cups carrots, chopped
½ small onion, finely chopped
2 tablespoons extra virgin olive oil
¼ teaspoon kosher salt
1 teaspoon ground cumin
½ teaspoon ground coriander
¼ teaspoon ground turmeric
¼ teaspoon ground cinnamon
1 tablespoon pumpkin seeds (optional)
Directions
Place all of the ingredients – except for the pumpkin seeds – in the rice cooker inner pot and close the lid.
Select the [Slow Cook] function and set the time to 70 minutes and press start.
Transfer the soup to a blender and blend until smooth. 
Divide the soup among bowls and top with pumpkin seeds. Serve.
THE EASIEST HOMEMADE CARROT SOUP: MOROCCAN STYLE
Carrot soup comes in many delicious forms. Obviously, we're big fans of the classics – like the slow burn of a good carrot ginger soup. YUM.
But we also love stepping outside the box and indulging in flavor profiles that, shall we say… push the envelope a bit more.
This Moroccan carrot soup has a LOT going for it. And most of that comes down to the spices.
Because, you see, at the core, it's a velvety pureed soup. Vegetable broth delivers a savory base of flavor – and onions and carrots even things out with their natural sweetness.
But the blend of powdered spices we're using dials things up to 11 (on a scale of 1-10).
We're using a hot-blooded mix of cumin, coriander, turmeric, kosher salt and cinnamon. It almost has a curry-like intensity, but when infused with everything else, takes on a balance that has proven to be a real crowd pleaser.
And, don't worry… it's super easy to make at home!
HOW TO MAKE CARROT SOUP IN A RICE COOKER
This is where the rubber meets the road so to speak.
First, add all of your carrot soup ingredients (EXCEPT for the pumpkin seeds) into the inner pot of your Tiger multifunctional rice cooker.
Then close the lid, select the Slow Cook function for 70 minutes – and press Start. Your rice cooker will infuse the carrots with the flavors from the spices super quickly – and, dare we say, more intensely than if you just boiled a pot of soup on the stovetop.
When the timer sounds off, transfer the cooked soup to a blender or food processor and blend until smooth. Top with pumpkin seeds if that's how you roll, and serve immediately.
You're going to love the velvety, spiced perfection this soup brings to your dinner table!
Products used in this recipe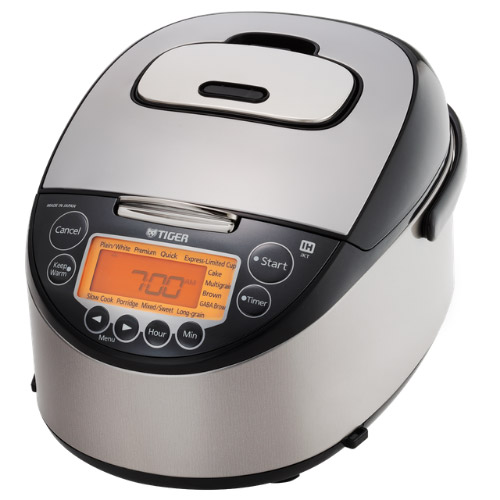 Induction Heating Rice Cooker JKT-D10U/18U
Made in Japan The TIGER JKT-D multi-functional induction heating (IH) electric rice cooker allows yo […]
LEARN MORE