Rice Cooker
Stuffed Cabbage Rolls
Whether you've had a crazy day at work, and just need to get something delicious on the table – or look forward to cooking as your end-of-the-day reprieve with a glass of wine – this is an easy weeknight dinner that doesn't skimp in the flavor department!
YUM! 🍲
Servings

2

Preparation
Cooking
Ingredients
2 cups (supplied measuring cup) of white rice
2 Cabbage leaves
1/3 lbs Ground beef and pork
1/4 Onion
2 Bacon slices
2 tbsp Bread crumbs
1 tbsp Milk
1 Eggs, beaten
4 Quail eggs (boiled)
2 tbsp Green peas
2 Cherry tomatos
1 Bay leaf
Mustard for flavor
Tomato ketchup for flavor
Parsley for garnish
Salt and pepper for flavor
Directions
Cut cabbage leaves in half and remove the thick stem. Boil until tender. (Or microwave for about 30 seconds.)
Cut the cherry tomatoes into quarters. Chop the onion and bacon coarsely.
In a bowl, mix the ground beef and pork, onion, bacon, beaten egg, bread crumbs, milk, salt and pepper until the mixture becomes sticky.
Mix the cherry tomatoes and green peas into the meat mixture, then separate into 4 pieces. Place the meat mixture on a cabbage leaf, add a quail egg and wrap in the leaf.
Place the wrapped cabbage roll in the tacook cooking plate and lay bay leaf on top.
Put the washed rice and water in the inner pot and place in the rice cooker.
Set the cooking plate in the inner pot. Select the [Synchro-Cooking] menu and press the [Start] key.
When cooking is complete, place the dish on a serving plate. Pour over the soup extracted from the steaming, and then serve with some mustard and tomato ketchup.
Note: Add corn starch to the soup to thicken as desired.
STUFFED CABBAGE ROLLS… AN EASY DINNER RECIPE
Let's hear it for easy weeknight dinners!
Because no matter how hard we try to keep things fresh when it comes to preparing food at home, life can just get in the way.
Sometimes – after a grueling day at work, getting the kids to soccer practice, and picking up the dry cleaning (after you lost the ticket) – the last thing you want to do when you get home is attempt to make a complex dinner recipe. Suddenly, a trip through the drive-thru is sounding better and better, right?
Well, these easy stuffed cabbage rolls are super delicious AND super easy to make in your rice cooker.
And once you get this savory and meaty cabbage recipe on the dinner table, you and your family will be glad you cooked instead!
HOW TO MAKE CABBAGE ROLLS IN A RICE COOKER
Wait… cabbage rolls in a rice cooker!?
Yep! Your Tiger rice cooker is pretty handy when it comes to thinking outside the box at dinnertime.
In fact, when it comes to a kitchen appliance than can handle anything from whipping up Jambalaya to Swedish Meatballs to Keema Curry (and lots in-between) – we've become fond of referring to them as multi-cookers 😀
And this easy stuffed cabbage recipe is no exception.
You see, when you pack your cabbage leaves with a mixture of ground beef and pork, savory bacon, fresh cherry tomatoes and onions, just roll them up and place inside the Tacook cooking plate.
When you select the Synchro-Cooking setting, the vapor created from the cooking rice in the inner pot of your rice cooker steams your stuffed cabbage rolls at the same time.
That means you and your family will be eating cabbage rolls and rice in no time.
They'll love the flavor… And, after your busy day, you'll appreciate the easy after-dinner clean-up!
Products used in this recipe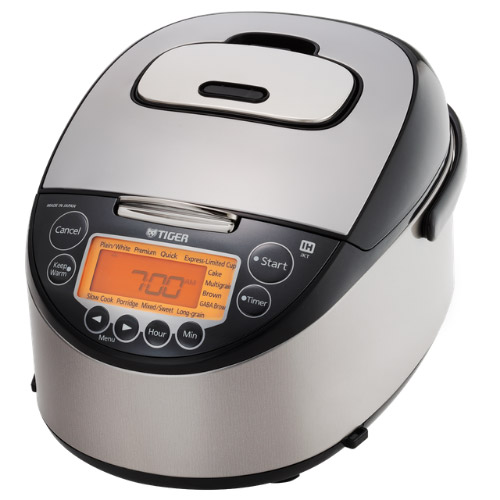 Induction Heating Rice Cooker JKT-D10U/18U
Made in Japan The TIGER JKT-D multi-functional induction heating (IH) electric rice cooker allows yo […]
LEARN MORE