Rice Cooker
Shiitake Mushroom Garlic Rice
Make this umami shiitake mushroom garlic rice as a side dish or as the main attraction of your meal. Everyone will be demanding seconds!
Servings

3-4

Preparation
Cooking
Ingredients
2 cups brown rice (using the supplied measuring cup)
2 garlic cloves, minced
2 cups mushroom broth or dashi broth
1 tablespoon sake
1  tablespoon soy sauce
2 teaspoons mirin
400g shiitake mushrooms
2 tablespoons chopped cilantro or parsley
Directions
Rinse the rice under cold water and keep swishing the rice around until the water runs clear.
Transfer the rice to the rice cooker inner pot and add the broth, sake, soy sauce, and mirin. Mix well.
Place the shiitake mushrooms on top of the rice and close the lid.
Choose the [Brown] rice function and press start. 
Open the lid and gently fold the mushrooms into the rice. Serve topped with chopped cilantro.
AN EASY, FULL FLAVORED SEASONED RICE RECIPE
We're all in on easy rice recipes. Whether it's a smoky curried rice pilaf – or this edamame and fried tofu rice – there's just something so satisfying about seasoned rice you can eat as a side dish or as a fully composed meal.
Extra points if you can make it super easily in your rice cooker!
This shiitake mushroom garlic rice ups the flavor quotient with rich umami goodness – and is made with our favorite healthy grain of all time: brown rice.
Brown rice is nutty and has a sturdy texture that cooks so nicely with the broth.
We've tried this brown rice recipe with both mushroom broth and dashi stock. You really can't go wrong with either. They both permeate the grains while cooking and deliver an effect similar to seasoned rice pilaf. Since dashi is a fish based stock, use mushroom broth if you want to make vegan garlic rice.
Minced garlic imparts an earthy funk to the dish, while shiitake mushrooms double down on the umami aspect.
Soy sauce, sake and mirin is a holy trinity of sorts in Japanese cooking. The savory, sweet and dry sharpness elevates the overall dish to hero status.
And it's so easy to make garlic rice in your rice cooker!
HOW TO MAKE GARLIC RICE IN A RICE COOKER
First, add your rinsed brown rice – and the rest of your ingredients (EXCEPT the cilantro) to the inner pot of your Tiger multifunctional rice cooker and mix well. Make sure the sliced shiitake mushrooms go on top of the mixture.
Then close the lid, select the Brown Rice cooking setting and press the Start button.
Once the cooking cycle has finished, fold the mushrooms into the rice until mixed well.
You can top it off with chopped fresh cilantro for a little garden freshness and serve!
Products used in this recipe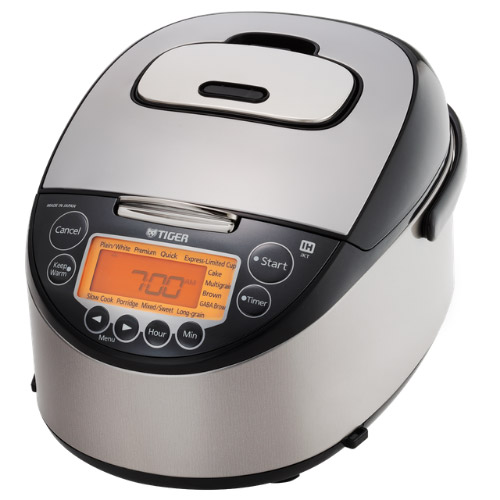 Induction Heating Rice Cooker JKT-D10U/18U
Made in Japan The TIGER JKT-D multi-functional induction heating (IH) electric rice cooker allows yo […]
LEARN MORE