Rice Cooker
Tomato Cheese Risotto
Ready for a risotto recipe so easy you could make it in your sleep? One bite of this creamy, umami loaded tomato cheese risotto and you'll be hooked!
Servings

3-4

Preparation
Cooking
Ingredients
2 cups Japanese short grain rice
1 Small onion, finely chopped
2 Garlic cloves, minced
1 tablespoon Extra virgin olive oil
1 cup Freshly grated parmesan cheese
25 Cherry tomatoes
Salt and pepper to taste
Directions
Rinse the rice until the water runs clear and soak in water for 30 minutes.
Drain and transfer the rice to the rice cooker inner pot. Add enough water to hit the number 2 line for regular rice. 
Add onion, garlic, and olive oil, and stir. 
Place the cherry tomatoes on top of the rice along with half of the parmesan cheese, and close the lid. 
Choose the [Plain] function and press start. 
Stir in the remaining parmesan cheese and season with salt and pepper before serving.
A DELICIOUS TOMATO CHEESE RISOTTO
Tomato and Parmesan is an ingredient match made in heaven. The brightness of tomatoes and the contrasting saltiness of a good Parmesan cheese work in tandem to elevate the flavor profile of any dish they are used together in.
We'd say it's actual magic!
But did you know tomatoes and Parmesan cheese both contain umami – that illusive fifth taste – found in things like soy sauce and seared meats?
Therefore, saying that this tomato cheese risotto recipe is an umami-bomb isn't an overstatement in the least!
We're using cherry tomatoes in this easy rice cooker risotto. During the cooking process they burst, perfuming and permeating the rice with their garden freshness.
Speaking of rice, we're using short grain Japanese rice for this recipe. While most risotto is made with arborio rice – we find the texture of this rice cooker risotto on-point with the Japanese grains.
But no matter which type of rice you decide to use for your own velvety risotto, you'll definitely love how easy it is to make at home!
HOW TO MAKE RISOTTO IN A RICE COOKER
Place your rinsed and soaked rice into the inner pot of your Tiger multifunctional rice cooker. Next add the water, minced garlic, chopped onion and extra virgin olive oil and give the mix a good stir.
The cherry tomatoes go on top of that mixture, along with half of your grated Parmesan Cheese.
You'll select the Plain cooking preset (yep – that's the same one you use when making plain rice in your rice cooker!).
Once the timer sounds off, just season with salt and pepper and stir in your remaining Parmesan.
We think you and your family are going to LOVE this tomato cheese risotto!
Products used in this recipe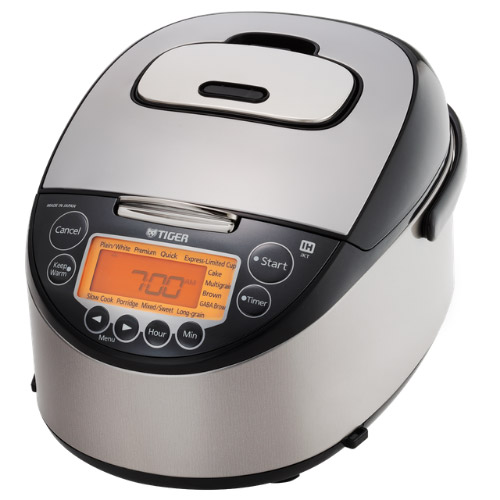 Induction Heating Rice Cooker JKT-D10U/18U
Made in Japan The TIGER JKT-D multi-functional induction heating (IH) electric rice cooker allows yo […]
LEARN MORE