Rice Cooker
Chicken Mushroom Rice
Let's cook! This hearty chicken mushroom rice recipe is easy to make and loaded with umami. It's the ultimate rice bowl!
Servings

3-4

Preparation
Cooking
Ingredients
6 Dried shiitake mushrooms
125ml Water
200g Japanese rice
250ml Low sodium chicken stock
1 Chicken breast, chopped bite size
2 tbsp Soy sauce
½ tsp Salt
1 tbsp Ginger, thinly sliced into sticks
2 Garlic cloves, minced
1 Scallion, finely chopped
Directions
Place the shiitake mushrooms in a bowl and add the water. Let soak for 30 minutes. Don't throw out the water once the mushrooms are done soaking since you will be using it to flavor the rice.
Squeeze out the excess water from the shiitake mushrooms and chop the mushrooms into bite size pieces. Save the water and chopped mushrooms separately and set aside.  
Rinse rice until the water runs clear. Add it to the rice cooker inner pot.
Add the mushroom water, chopped mushrooms, chicken stock, chopped chicken breast, soy sauce salt, ginger, and garlic, and stir. 
Close the lid and choose the [Plain] function. Press start.
Serve with freshly chopped scallions.
CHICKEN MUSHROOM RICE: A DELICIOUS AND EASY ONE POT MEAL
You know we love to keep a couple easy chicken recipes in our back pocket. Because, at the end of a long day, there's nothing better than a protein packed dinner that tastes amazing – but requires very little effort to whip up.
Well, this chicken and rice recipe takes the best elements of Japanese rice and chicken breast, and adds shiitake mushrooms for a savory and umami punch of flavor. It's beyond yummy!
The secret to this chicken rice recipe is using dried shiitake mushrooms. When you soak dried shiitakes in hot water, the water not only rehydrates the mushrooms – it also leaves you with a cooking liquid that is infused with the deep, earthy essence of the mushrooms themselves.
So don't throw the water out once your mushrooms are rehydrated. You'll need it for cooking!
Ginger and garlic add a potent zing to the dish – and chicken stock will fortify your mushroom cooking liquid with even more savory goodness.
Now we'd venture a guess that – aside from deliciousness at dinnertime – easy recipes hold their own special place in your heart after a trying day at work or school.
Well, when you use your Tiger multifunctional rice cooker, almost anything can be a one-pot-meal!
HOW TO MAKE CHICKEN MUSHROOM RICE IN A RICE COOKER
Once your dried shiitake mushrooms have soaked in water, wring them out and chop into bite sized pieces. Add the mushrooms and chicken to the inner pot of your rice cooker – along with rinsed rice, cooking liquid and your flavoring ingredients (check the ingredients tab on this page for amounts).
Press the Start button, using the Plain setting on your rice cooker – and you're off to the races.
Dinner is going to be epic!
Products used in this recipe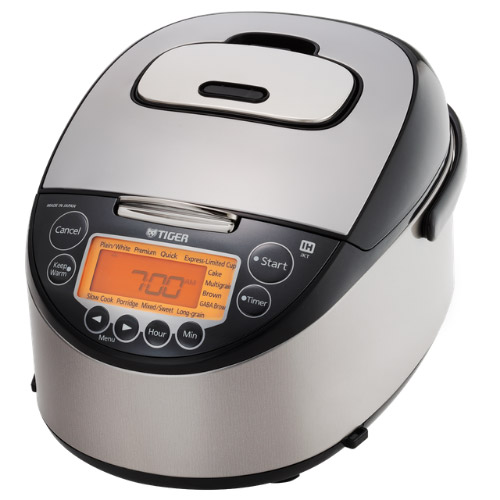 Induction Heating Rice Cooker JKT-D10U/18U
Made in Japan The TIGER JKT-D multi-functional induction heating (IH) electric rice cooker allows yo […]
LEARN MORE