Rice Cooker
Honey Garlic Chicken
At the end of a long day, this honey garlic chicken recipe has all the intense flavors you'll need to disconnect from the rigors of work or school – and savor the good life!
Ingredients
2 cups White rice (supplied measuring cup)
3 Garlic cloves, grated
1 tbsp Soy sauce
3 tbsp Honey
2 tsp Rice vinegar
Salt and pepper
5 oz Skinless, boneless chicken breast, cut bite size
Directions
Whisk grated garlic, soy sauce, honey, and rice vinegar in a bowl and add chicken. Marinate for 15 minutes.
Place the chicken in the tacook cooking plate along with the marinade and season with salt and pepper.
Put the washed rice and water in the inner pot and place it in the rice cooker.
Set the cooking plate in the inner pot. Select the [Synchro-Cooking] menu and press the [Start] key.
When cooking is complete, place the cooked rice with chicken in a serving bowl.
A RICE COOKER CHICKEN RECIPE YOU'LL CRAVE ALL THE TIME
What we love most about this honey garlic chicken breast recipe is the interplay of savory and sweet. Soy sauce brings an unbeatable level of umami – while honey delivers a wonderful understated sweetness that never becomes cloying.
Rice vinegar imparts a slight tartness to the dish that is countered by garden fresh grated garlic.
Yep – there's a lot of flavor in this simple chicken recipe – and, if you make it once, we think you'll crave it again and again!
HOW TO MAKE HONEY GARLIC CHICKEN IN A RICE COOKER
We're all about whipping up easy chicken recipes that make dinner uncomplicated and delicious. And you KNOW we are big on showing that rice cooker recipes don't stop at just preparing perfect rice.
Seriously, whether you go with this fun bang bang chicken, this Indonesian chicken porridge – or this iconic American comfort-food chicken noodle soup – your rice cooker is the perfect kitchen appliance when it comes to making chicken recipes on a busy work or school night.
Well, in the case of this honey garlic chicken recipe, just marinate your sliced chicken breast in soy sauce, honey and rice vinegar for a quick 15 minutes – and then place everything in the tacook cooking plate.
When you use the Synchro-Cooking setting, the vapor created by the cooking rice in the inner pot of your multi-functional rice cooker will steam the honey garlic chicken at the same time. It's a little bit of food magic – and a whole lot of science… but, as always, we simply like to focus on how delicious it is!
Here's hoping you and your family love this easy chicken recipe as much as we do!
Bon appétit 🍲😋
Products used in this recipe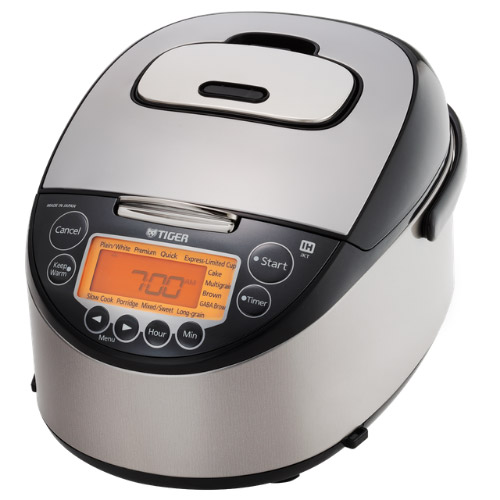 Induction Heating Rice Cooker JKT-D10U/18U
Made in Japan The TIGER JKT-D multi-functional induction heating (IH) electric rice cooker allows yo […]
LEARN MORE