Rice Cooker
Bang Bang Chicken
What's for dinner!?
If you're anything like us, that delicious question is weaving its way to the forefront of your mind throughout the day.
And – hey, it's all good!
Because, when you've got some delicious options in your cooking repertoire, you're never far away from taking that first delectable bite.
Add this bang bang chicken to your very own list of simple chicken recipes. After you try it for the first time, we bet you'll be making it on the regular!
Ingredients
2 cups (supplied measuring cup) of white rice
1 piece (1/2 lb) chicken thigh
A dash of salt and pepper
1/2 tbsp sake (rice wine)
1/2 cucumber
2 lettuce leaves
3 cherry tomatoes
1/2 garlic cloves (finely chopped)
1/2 ginger cloves (finely chopped)
1 tbsp peanuts
1/2 tbsp sesame paste
1/2 tbsp soy sauce
1/2 tbsp sugar
1 tsp vinegar
Directions
Season the chicken thigh with salt, pepper, and sake.
Place 1 in the tacook cooking plate.
Put the washed rice and water (up to indicated level) in the inner pot, and then place it in the rice cooker.
Set the cooking plate in the inner pot. Select the [Synchro-Cooking] menu and press the [Start] key.
Cut the cucumber into thin strips, lettuce into thin strips, and cherry tomatoes into halves.
Chop the garlic and ginger finely and chop the peanuts coarsely. Mix them well with dressing ingredients.
When cooking is completed, take out the chicken thigh and cut it into 0.6 inch (1.5cm) thick slices. Serve the chicken over the cucumber, lettuce, and cherry tomatoes, and add 6 over them.
WHAT IS BANG BANG CHICKEN?
Bang bang chicken is a dish consisting of steamed and sliced chicken served over julienned cucumber – with a savory, nutty, sweet (and sometimes spicy) dressing.
The chicken can be served cold, at room temperature or hot.
Now, while there are many Western influenced breaded recipes with chicken that also get the moniker bang bang chicken, the original is actually a Chinese recipe called bon bon chicken.
Bon bon literally means 'bang bang' and is a nod to the fact that many bang bang chicken recipes call for the meat to be tenderized with a mallet prior to cooking.
AN EASY CHICKEN RECIPE IN A RICE COOKER
This is not only one of the best chicken recipes from a flavor perspective, it's also one of the easiest to whip up in a flash.
You see, your Tiger rice cooker is tailor-made for preparing dishes like this.
While your rice cooks to perfection in the inner pot of your multicooker, the seasoned chicken thighs are steamed with the very same heated vapor produced by the rice.
Yep – your Tacook cooking plate is a total 2-in-1 cooking solution – and is a real time saver in the kitchen!
You'll love how easy dinner prep and clean-up is.
And your family will love the sweet, savory and tangy flavors in this healthy and delicious bang bang chicken recipe😋
Products used in this recipe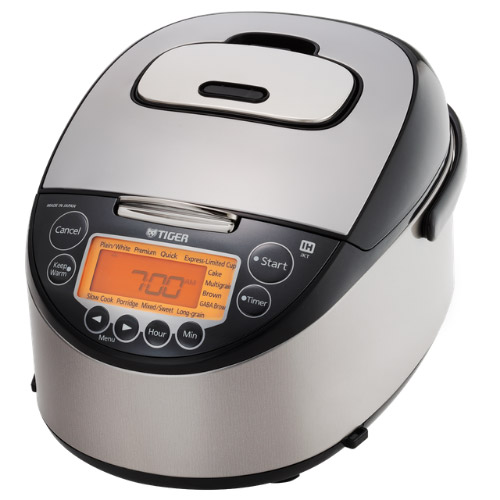 Induction Heating Rice Cooker JKT-D10U/18U
Made in Japan The TIGER JKT-D multi-functional induction heating (IH) electric rice cooker allows yo […]
LEARN MORE