Rice Cooker
Bubur Ayam – Indonesian Chicken Porridge
What can be more comforting that a warm and savory bowl of porridge topped with shredded with chicken and fried shallots? We dare you to find anything better!
Servings

3-4

Preparation

20 min

Cooking
Ingredients
½ cup rice
2 cups Chicken stock
White pepper for flavor
Salt for flavor
1 Chicken breast
1 ½ oz Peanuts (with skin)
¾ oz Fried onions
Green onion for garnish
Cilantro for garnish
Directions
Wash the rice in the inner pot and drain the water. Add salt and white pepper and add the chicken stock up to level 0.5 of "Porridge" marked in inner pot. If the chicken stock does not reach level 0.5 of "Porridge", add some water. Mix the ingredients well.
Select the [Porridge] menu and set the heating time to 60 minutes. Press the [Start] key.
Cook the chicken in boiling water. Once cooked, tear the chicken into pieces by hand.
Chop the green onion and cilantro.
When cooking is complete, place the porridge into a serving bowl and top with the toppings.
What is Bubur Ayam?
Bubur ayam is a popular chicken porridge served for breakfast throughout Indonesia. You can get it off the streets from vendors, in fast food establishments, food courts, even high end hotel restaurants.
This simple dish is a staple in Indonesia and is usually served with various toppings such as peanuts, fried bean curd, fried shallots, preserved vegetables, celery, cilantro, soy sauce, and chili paste (sambal oelek).
The dish itself isn't spicy but rather mild and very similar to a Chinese congee, where the dish derives from. Bubur ayam is considered a comfort food in Indonesia because of its warming properties and high carbohydrate content.
How to Make Bubur Ayam in a Rice Cooker
You will be using the Porridge function of your Tiger rice cooker for this recipe.
Start by washing your rice in the inner pot, drain the water, and repeat until the water runs clear. It doesn't have to be perfectly clear, but the less cloudy, the better.
Add your chicken stock, season with a little salt and pepper and stir.
Click on the porridge function and set the time to 60 minutes.
While the rice is bubbling, bring a separate pot of water to boil. Add your chicken and boil for a few minutes, until the chicken is cooked through.
Take the chicken out of the water and let it cool to room temperature. Use your fingers or a fork to shred the chicken.
Pour the rice porridge in a bow and top with shredded chicken, fresh scallions and other toppings of your choice.
You can also add a boiled egg for a heftier meal.
How Long is Bubur Ayam Good For?
For leftovers, keep the chicken porridge in an airtight container, in the fridge. It should keep for 5-6 days. You can reheat in the microwave (make sure the container's lid is slightly ajar to prevent an explosion of gooey rice!) or in a pot on the stove.
Products used in this recipe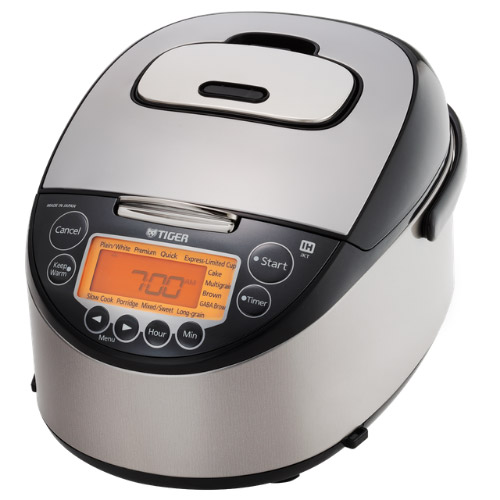 Induction Heating Rice Cooker JKT-D10U/18U
Made in Japan The TIGER JKT-D multi-functional induction heating (IH) electric rice cooker allows yo […]
LEARN MORE