Rice Cooker
Chicken in Tomato Sauce
This Italian inspired Chicken in tomato sauce is the perfect easy chicken recipe to whip up at the end of a long day. It's hearty, savory perfection – and is ready in no-time!
Servings

3-4

Preparation
Cooking
Ingredients
500g Boneless, skinless chicken breasts
1 Small onion, chopped
1 Medium carrot, chopped
5 Button mushrooms, chopped
1 (14-ounce) can Diced tomatoes
1 tsp Sugar
½ tsp Salt
1 tbsp Extra virgin olive oil
½ cup Chicken broth
Flat leaf parsley, for garnish
Directions
Place all the ingredients in the Tiger inner pot and choose the [PLAIN] setting. Press Start.
Once complete, season with salt and pepper and serve topped with flat leaf parsley.
THIS CHICKEN IN TOMATO SAUCE MAY REMIND YOU OF ANOTHER FAMOUS CHICKEN RECIPE
You can never have too many easy chicken recipes in your back pocket. Getting a balanced and delicious dinner on the table after a long day at work doesn't have to be a tough slog. Hey – we're here to help!
Now this chicken in tomato sauce recipe is a loose interpretation of one of our favorite Italian chicken recipes of all time: chicken cacciatore.
Tender chicken and vegetables in a hearty tomato sauce is one of our favorite things in the world.
We're using boneless, skinless chicken breast in this recipe to keep it lean – however you could substitute chicken thighs if you prefer dark meat.
Chopped onions, carrots and mushrooms round out this stewed chicken dish perfectly – and soak up the bright and savory chicken stock and diced tomatoes mixture that comprise the broth. It's delicious!
And it's super easy to make in your rice cooker.
HOW TO COOK CHICKEN IN TOMATO SAUCE IN A RICE COOKER
The best part about making this delicious and easy chicken recipe is that all you need to do is add all your ingredients (except the parsley) to the inner pot of your Tiger multifunctional rice cooker.
Simply select the Plain cooking preset (yep, that's the same setting you use when making white rice!) and press the Start button.
In the time it takes to run through the short cooking cycle, you'll have perfectly tender chicken breast and chopped vegetables infused with a savory homestyle tomato sauce.
Just plate your meal and top with a bit of chopped flat leaf parsley as a finishing touch. Your Italian inspired chicken will be a big hit around the dinner table!
Products used in this recipe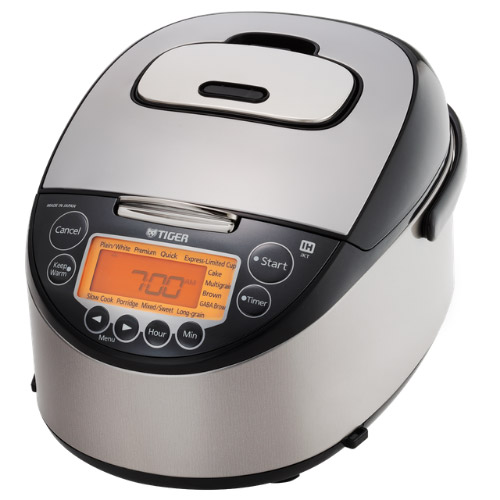 Induction Heating Rice Cooker JKT-D10U/18U
Made in Japan The TIGER JKT-D multi-functional induction heating (IH) electric rice cooker allows yo […]
LEARN MORE