Rice Cooker
Slow Cooker Orange Chicken
Put that phone down! This slow cooker orange chicken recipe is super simple to make from scratch – and is the perfect delicious takeout-fakeout!
Servings

3-4

Preparation

20 min

Cooking

90 min
Ingredients
1 ¼ lbs Boneless skinless chicken breasts cut into 1-inch pieces
¼ cup Cornstarch
Salt and pepper to taste
1 tbsp Vegetable oil
¾ cup Orange marmalade
¼ cup Low sodium soy sauce
1 tbsp Rice vinegar
1 tsp Sesame oil
½ tsp Minced garlic
1 tbsp Sesame seeds
2 tbsp Sliced green onions
Directions
Cut chicken in 1-inch pieces and coat with cornstarch, salt and pepper.
Heat in the oil in pan and cook chicken until browned.
Insert chicken in inner pot. In a bowl, mix orange marmalade, soy sauce, rice vinegar, sesame oil and garlic. Cover chicken with the sauce.
Place inner pot in the rice cooker. Select [Slow Cook] menu and set for 90 minutes. Press [Start] key.
Once complete, sprinkle sesame seeds and green onions to serve.
WHAT IS ORANGE CHICKEN?
Orange chicken is a Westernized Chinese recipe that features chicken chunks (usually battered) covered in a sweet, sour and savory glaze. Many orange chicken recipes call for additions like sesame seeds or even dried red chilis – and its commonly served alongside white rice and possibly a veggie like broccoli.
And while you won't typically find this recipe on menus in China, it's a big hit in Chinese restaurants the world over. Well, it's easy to see why… it's absolutely delicious!
Now, while this easy Asian chicken recipe runs plenty of parallels to another American-Chinese food recipe: General Tso chicken – the main ingredient that separates the two is right there in the title.
You see, orange chicken recipes are typically going to contain some sort of orange flavoring – whether it be from orange juice, orange peel or zest.
The orange in question in this slow cooker orange chicken recipe comes from orange marmalade. It delivers a citrus essence and a subtle sweetness that doesn't overpower the other flavors coming from ingredients like soy sauce, sesame oil and rice vinegar.
HOW TO MAKE ORANGE CHICKEN IN A RICE COOKER
If you're hesitant to make this slow cooker orange chicken recipe in your rice cooker, don't be. We've got you! Your Tiger rice cooker is packed with cooking presets that make whipping up anything from soup to cake a total breeze.
And this yummy Chinese chicken recipe is no exception!
Simply place your pan-browned chicken pieces into the inner pot of your rice cooker and cover with your sauce and stir. Close the lid, select the Slow Cook setting and press the Start key. We like to add some sesame seeds and chopped scallions once the cooking cycle is complete.
You're going to absolutely love this better-than-takeout Chinese classic!
Products used in this recipe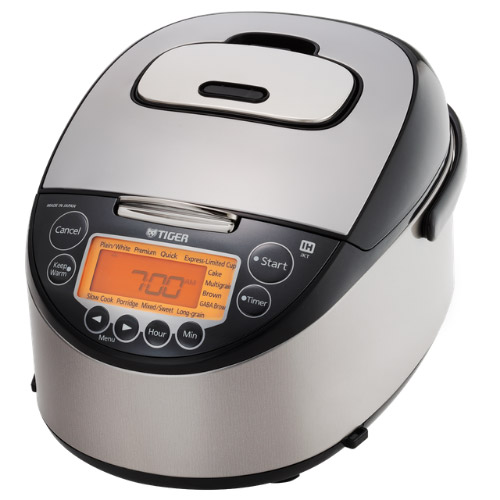 Induction Heating Rice Cooker JKT-D10U/18U
Made in Japan The TIGER JKT-D multi-functional induction heating (IH) electric rice cooker allows yo […]
LEARN MORE