Rice Cooker
Rice Cooker Baked Ziti
Cheesy, tomatoey goodness is the name of the game with this savory rice cooker baked ziti. It'll make pasta night your favorite night!
Servings

3-4

Preparation

15 min

Cooking

85 min
Ingredients
1 25 ounce jar marinara or arrabbiata sauce
1 cup tomato sauce
1 teaspoon dried oregano
1 teaspoon dried basil
7 ounces ricotta cheese
1 large egg
2 cups dry ziti
1 cup freshly grated parmesan cheese
½ cup shredded mozzarella cheese
Salt and pepper, to taste
Directions
Combine the marinara sauce, tomato sauce, dried oregano, and dried basil in a bowl and set aside.
In a separate bowl, mix the ricotta cheese and egg and set aside.
Spray the bottom and side of the rice cooker inner pot with cooking spray.
Pour 1 ¼ cup of the marinara sauce mixture in the inner pot and top with ⅓ of the penne.
Scoop half of the ricotta cheese mixture and gently spread it on top of the penne. Or you can break it up into little balls and spread them across.
Top with half of the grated parmesan cheese.
Add 1 ¼ cup of marinara sauce on top of the parmesan cheese and top with ⅓ of the penne.
Gently spread the remaining ricotta cheese mix or break it into little balls and spread them across the top of the penne.
Add the remaining parmesan cheese.
Add the remaining penne and top with what is left of the marinara sauce.
Close the lid and select the [Slow Cook] function. Set the timer to 80 minutes and press start.
When the cooking is done, open the lid and add the shredded mozzarella cheese. Close the lid and leave for 5 minutes.
Season with salt and pepper and serve.
YES, YOU CAN MAKE PASTA IN YOUR RICE COOKER
First things first: we're aware that your Japanese rice cooker might not be the first kitchen appliance you think of when whipping up Italian pasta goodness. But we hope to change all that!
Because whether you're making a traditional peperoncino spaghetti – or are craving a mashup of flavors that ignores pesky things like borders, as in this lo mein spaghetti recipe – your rice cooker is actually the perfect tool for making pasta night at your place super easy.
And we've done all the legwork in making sure the cooking times leave you with al dente pasta and perfectly developed flavors. We think this rice cooker baked ziti will be in your steady rotation soon!
WHAT IS BAKED ZITI?
Baked ziti is a popular Italian-American pasta casserole that melds the bright and umami flavors of rich tomato sauce with ricotta, mozzarella and Parmesan cheeses.
Typically this al forno recipe is finished in the oven where it bubbles away much like any casserole.
Now, while there's no actual 'baking' taking place in this rice cooker pasta recipe, the results are undeniably delicious. And we think you're going to love how easy it is to make this cheesy, tomatoey baked ziti!
HOW TO MAKE BAKED ZITI IN A RICE COOKER
We're using dried penne pasta because it's so easy to find at most grocery stores. However, you can use ziti pasta as well. Both are interchangeable in this recipe.
Be sure to follow the step by step instructions in the directions tab just above on this page. You'll be using the Slow Cook function on your Tiger multifunctional rice cooker.
Once the cooking cycle has finished, open up the lid and add your shredded mozzarella cheese to the top of the cooked pasta and close the lid for 5 more minutes. The heat will melt the cheese to creamy perfection!
Products used in this recipe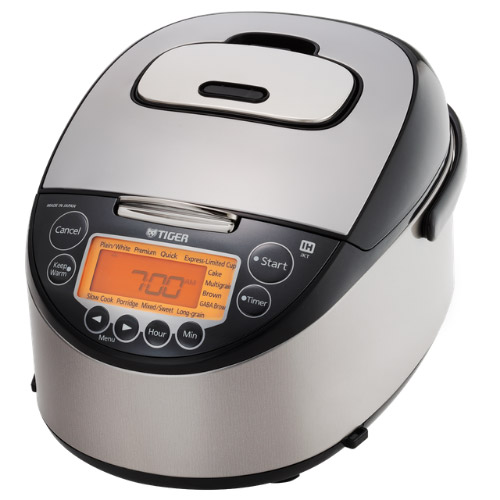 Induction Heating Rice Cooker JKT-D10U/18U
Made in Japan The TIGER JKT-D multi-functional induction heating (IH) electric rice cooker allows yo […]
LEARN MORE