Rice Cooker
Spaghetti Tomato Sauce
Let's make pasta! This spaghetti in tomato sauce recipe tastes restaurant-quality – and is one of the easiest rice cooker recipes of all time.
Servings

3-4

Preparation

10 min

Cooking

25 min
Ingredients
28oz Spaghetti sauce
2 cups Water
1 tsp Dry oregano
1 tsp Dry parsley
2 Garlic cloves, grated
1 tbsp Extra virgin olive oil
Salt and pepper to taste
½ lb Dry spaghetti, broken in half
Directions
Place all the ingredients in the inner pot of the rice cooker and choose the [Slow Cook] function. Set the timer to 25 minutes and press Start.
Once complete, serve with freshly grated Parmesan cheese.
A CLASSIC SPAGHETTI IN TOMATO SAUCE
Spaghetti with tomato sauce holds a special place in our hearts (and stomachs). It's one of those rare meals that manages to taste both a little fancy – and like mom's comfort food.
Well, this spaghetti recipe is loaded with a tomato sauce that is both savory and bright – and is ready in a flash.
Now if you need a recipe for a great tomato based spaghetti sauce, we've got you covered.
You can totally make the recipe as it is written on this page. There's some magical alchemy that takes place when you mix garlic, oregano, parsley and tomatoes.
Or you can try our slow cooker recipe for this simple red spaghetti sauce. Since you can refrigerate or freeze pasta sauce, you can always have it on hand for pasta night in a pinch. Perfect for when you're in a rush to get dinner on the table.
But whether you're whipping up this savory and tangy spaghetti recipe from scratch – or just slow cooking spaghetti sauce, your rice cooker can handle it!
HOW TO MAKE SPAGHETTI IN A RICE COOKER
Simply place your dry pasta (broken in half) and all the ingredients for the sauce into the inner pot of your rice cooker. Select the Slow Cook function for 25 minutes and press the Start key. That's it!
Yep – it's truly a one pot meal. Your pasta turns out perfectly al dente. And since you cooked it in the sauce, the spaghetti is infused with tomatoey goodness through and through.
Now, we get it… you might not think of your rice cooker first when you run through the roster of kitchen appliances that can get the job done on pasta night. But we're here to change all that!
You see, your Tiger multifunctional rice cooker has a ton of cooking presets for everything from plain rice to slow cooking to making bread. 
Buon Appetito!
このレシピで使用した製品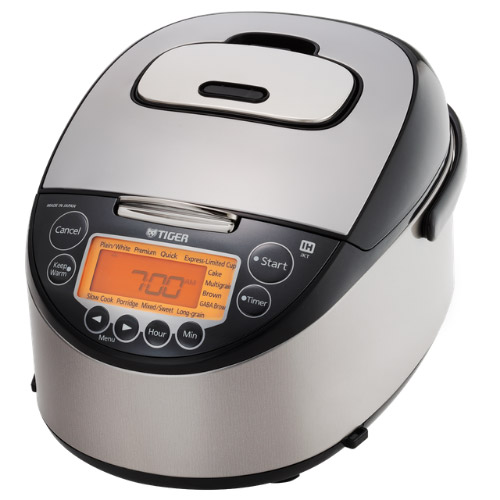 Induction Heating Rice Cooker JKT-D10U/18U
Made in Japan The TIGER JKT-D multi-functional induction heating (IH) electric rice cooker allows yo […]
LEARN MORE