Rice Cooker
Szechuan Pork
Put that phone down!
Sure, delivery is great sometimes. It's especially welcome after a long day at work or school, when time is short – and a full-flavored Chinese stir fry in front of the TV might just hit restart on the day.
But we've got a Szechuan pork recipe that you can make in a flash… And, we promise, it's better than takeout!
Servings

3

Preparation
Cooking
Ingredients
3 Cabbage leaves
1/4 lb (100g) Thinly sliced pork belly
1 Green bell pepper
1/2 Red bell pepper
1/3 White leek stalk
2 tsp Corn starch
1 tsp Garlic, finely chopped
1 tsp Ginger, finely chopped
1/2 tsp Doubanjiang (chili bean sauce)
2 tbsp Tianmenjiang (sweet bean sauce)
1 tbsp Sugar
1 tbsp Soy sauce
2 tsp Sesame oil
Directions
Rinse the rice under running water until the water and drain the cloudy water.
Place the rice, celery and ginger in the inner pot and pour enough chicken stock to reach the 0.5 Soft Porridge line.
Select the [Porridge] menu and set the heating time to 70 minutes. Press the [Start] key.
Serve topped with chopped scallions.
AN EASY SZECHUAN PORK BELLY RECIPE
In this day and age, it's sometimes easier to order the foods we love online or over the phone. And that's because we're only a click away from having delicious and exotic dishes delivered to our front doors.
The trade off of this ease is often at the cost of using high quality ingredients – and being able to tailor your dinner to your family's specific tastes and preferences.
For this Chinese pork recipe, we've jettisoned the traditional mouth numbing Szechuan peppercorns in favor of using doubanjiang (a fiery chili bean sauce) and tianmianjiang (a sweet bean sauce) to bring the sweet heat to this Szechuan recipe.
Leeks and bell peppers deliver a healthy, verdant pop of color and flavor. And garlic, ginger and sesame oil impart a fresh, nutty and complex bouquet to the dish.
The result is a savory, luxurious pork belly recipe that is ready in a flash.
Bonus: you can keep the wok in the cabinet for this one. We'll be using a rice cooker for the entire thing!
HOW TO MAKE SZECHUAN STYLE PORK IN YOUR RICE COOKER
For this Szechuan pork recipe, we'll be cooking it along with the rice at the same time – in the same multicooker!
You see, your Tiger rice cooker comes equipped with a Tacook cooking plate that uses the steam generated from the cooking of the rice to simultaneously cook your meat and vegetables.
Simply place your rinsed rice and water into the inner pot of your rice cooker. Then load all the ingredients for the Szechuan pork in the Tacook cooking plate. Place both inside your rice cooker – and select the Synchro-Cooking setting. That's it.
Hey… we told you it was easy!
And it's so delicious, your family might just think you ordered it from your favorite Chinese restaurant.
Don't worry, we won't tell on you, chef!
Products used in this recipe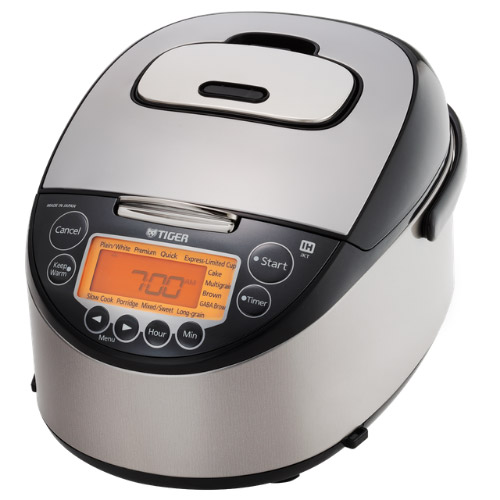 Induction Heating Rice Cooker JKT-D10U/18U
Made in Japan The TIGER JKT-D multi-functional induction heating (IH) electric rice cooker allows yo […]
LEARN MORE