Rice Cooker
Simple Red Spaghetti Sauce
Slow Cook
Vegan
Vegetarian
Pasta night is one of our favorite nights of the week. In fact, there's no need to limit it to one night per week, right!? This simple red spaghetti sauce recipe has all the flavors of your favorite Italian ragu – and you can make it super easily in your rice cooker!
Servings

3-4

Preparation

10 min

Cooking

90 min
Ingredients
2 tbsp Extra virgin olive oil
3 Garlic cloves, minced
1 Small onion, finely chopped,
1 Medium carrot, finely chopped
1/4 tsp dried thyme
28 oz Can diced tomatoes
1/4 cup Water
Salt and pepper
Directions
Put all the ingredients in the rice cooker's inner pot and stir. 
Choose the [Slow Cook] function and set the timer to 90 minutes. Press start.
You can serve the sauce chunky or blend half of it in a blender for a smoother texture.
Season with salt and pepper and serve.
A RUSTIC HOMEMADE SPAGHETTI SAUCE RECIPE
This spaghetti sauce has all of the iconic Italian flavors you're looking for – whether you're making spaghetti or a meatball sub.
Olive oil, garlic and onions meld perfectly with diced tomatoes and thyme. It's bold, delicious and comforting all at once.
Now, when it comes to making this Italian red sauce, we bet your Japanese rice cooker isn't the first kitchen appliance you think of turning to. Well, we're here to change all that!
HOW TO MAKE SPAGHETTI SAUCE IN A RICE COOKER
Simply place all your ingredients for this rustic pasta sauce recipe into the inner pot of your rice cooker. Select the Slow Cook setting for 90 minutes and press the Start button. That's it!
No need to keep your eyes peeled on a bubbling pot on the stovetop – and the bold iconic Italian flavors will develop and deepen in a comparatively short amount of time.
Surprised? Don't be.
You see, your Tiger multifunctional rice cooker has onboard cooking presets for making all kinds of delicious things aside from the perfect rice you'd expect.
So whether you're craving black bean soup, Chinese braised pork belly – or even a sweet and creamy cheesecake for dessert – we've got you covered.
Now, the last step to this slow cooker spaghetti sauce is optional. You can serve it chunky if you like it that way. Or you can blend half the sauce if you prefer a smoother texture.
Either way, you and your family are going to look forward to pasta night each week!
Andiamo a mangiare! 🍝
Products used in this recipe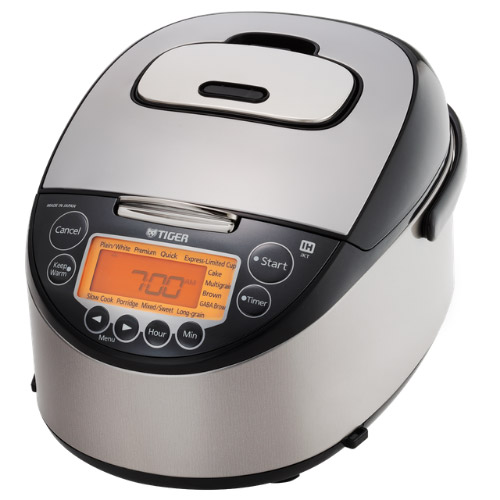 Induction Heating Rice Cooker JKT-D10U/18U
Made in Japan The TIGER JKT-D multi-functional induction heating (IH) electric rice cooker allows yo […]
LEARN MORE