Rice Cooker
Teriyaki Shrimp
Let's hear it for teriyaki! This teriyaki shrimp recipe is full of rich, savory-sweet flavor – and is an absolute breeze to make in your rice cooker!
Ingredients
2 cups White rice (supplied measuring cup)
16-20 Large shrimp, thawed and peeled
2 Garlic cloves, minced
2 Scallions, chopped
1 tbsp Soy sauce
2 tbsp Mirin (sweet rice wine)
1 tsp Sugar
Directions
Place all the ingredients in the tacook cooking plate.
Put the washed rice and water in the inner pot and place it in the rice cooker.
Set the cooking plate in the inner pot. Select the [Synchro-Cooking] menu and press the [Start] key.
When cooking is complete, place the cooked rice with shrimp  in a serving bowl.
WHAT IS TERIYAKI?
Everyone loves it! But what exactly makes something Teriyaki?
Teriyaki – テリヤキ – is a Japanese cooking technique where meat or fish is cooked with a trio of ingredients that creates a sweet and savory glaze. In fact, calling teriyaki a glaze is probably more accurate than calling it a sauce.
And while teriyaki chicken is probably the most iconic and well known preparation, you can use shrimp, beef, tofu… or, well, pretty much anything you'd like to coat in that perfect glossy concoction.
HOW TO MAKE TERIYAKI SAUCE
Soy sauce, mirin and sugar are combined and, when heated, form a glaze that thickens and coats the protein. How's that for easy!?
Well, it's absolutely delicious as well – and is one of the most famous flavor combinations Japan ever exported!
Have a look at the ingredients tab for the quantities of soy sauce, mirin and sugar to make your own homemade teriyaki sauce recipe. You'll never use store bought teriyaki sauce again!
HOW TO MAKE TERIYAKI SHRIMP IN A RICE COOKER
Now, your rice cooker may not be the first kitchen appliance you think of when whipping up a batch of teriyaki shrimp for your family. But we're here to change all that!
You see, your Tiger multi-functional rice cooker is the perfect tool to use when you're making rice and a composed dish at the same time. In the case of this teriyaki recipe, you can use the tacook cooking plate for your shrimp teriyaki – and utilize the inner pot of your rice cooker to prepare the rice as usual.
When you use the Synchro-Cooking setting, the vapor created by the cooking rice will steam your shrimp to perfection.
It delivers a dish that's both absolutely delicious and beyond easy to make. And that's a win/win we hope you'll love!
Products used in this recipe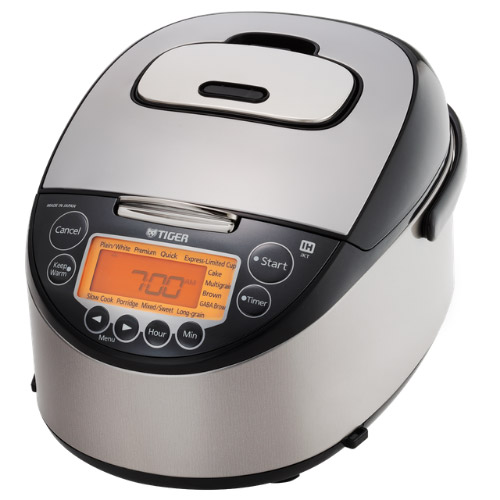 Induction Heating Rice Cooker JKT-D10U/18U
Made in Japan The TIGER JKT-D multi-functional induction heating (IH) electric rice cooker allows yo […]
LEARN MORE